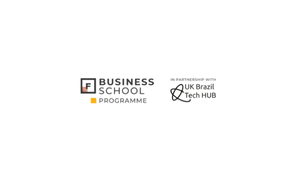 Part of DCMS' International Tech Hub Network.
Overview
Challenge
Tackle gender inequality in the digital economy, empowering women to lead digital transformation in Brazil
Solution
Future Females Business School in partnership with the UK-Brazil Tech Hub

3 month virtual incubator offering 10 modules of content to help transform ideas into practice

Connections with the UK and global opportunities
Impact
Total of 200 women entrepreneurs supported

Over 200 tech solutions for development challenges created

Improved access to global markets for Brazilian female entrepreneurs
Background
Women are under-represented in the Brazilian technology and innovation ecosystems: according to research by Abstartups (Associação Brasileira de Startups), only 12.6% of Brazilian startups have at least one woman among their founders, and these companies receive less than 3% of all VC funds. Only 3% of Brazilian MSMEs reach international markets, thereby excluding the majority of female-led startups from the benefits of increased productivity, competitiveness, and revenue of going global.
Programme
The Future Females Business School is a three-month virtual incubator supporting aspiring female entrepreneurs to develop the technical and personal skills needed to transform their ideas into profitable and sustainable tech-enabled businesses with a positive social or environmental impact. It plugs participants into a supporting global network of successful business owners, mentors, investors and experts.
The Programme will support 200 Brazilian female founders of tech-based enterprises across four cohorts in 2021. Following an online application, shortlisted candidates are invited to interview with Future Female specialists who evaluate the project's maturity and alignment with the programme.
The first cohort received over 700 applications, resulting in the selection of 50 female Brazilian entrepreneurs based in 26 different cities in Brazil or abroad with projects or early-stage startups in tech for good.
Taking part in the programme has improved my performance and growth as an entrepreneur. The presented methodologies have helped me improve many aspects of my company, including a fresh perspective on analysing competition and doing market research.
Letícia Araújo, founder of @ treinarmaisad and Future Females Business School Brazil participant
Tech Hub leadership
The UK-Brazil Tech Hub will provide full bursaries for all 200 selected female entrepreneurs to participate in the Future Females Business School throughout 2021. Bursary winners have access to a world-class 3 month virtual incubator programme offering 10 modules of content to help transform their ideas into practice.
Through this partnership, the Hub is tackling gender and regional inequality in digital access, promoting emerging tech and AI for good, fostering a vibrant digital economy, and enabling digital innovations to break into global markets thereby boosting trade.
As part of a global network, the UK-Brazil Tech Hub connects participants with five other countries with thriving tech ecosystems as well as with the UK, creating future prospects for partnerships. Alumni will also benefit from access to the Future Females community, present across 12 countries and including 70,000 female entrepreneurs.
Looking to the future
After graduation, participants will receive continued support from the UK-Brazil Tech Hub team to boost their market exposure, and access matchmaking, partnership and internationalisation opportunities. Alumni will be invited to mentor female entrepreneurs who were longlisted for the programme, as well as to participate in UK in Brazil organised events.
For more information
Read local media coverage of the partnership (pages in Portuguese):
Brasil Pais Digital: British government initiative to support technology entrepreneurs in Brazil
Imprensa Publica: UK launches business programme for Brazilian entrepreneurs
More about Future Females Business School and the UK-Brazil Tech Hub
The Future Females Business School Brazil team includes a programme manager, Carlei Nunes Dellinghausen, and 2 programme coaches, Preta Emmeline Lucena and Rafaela Herrera Silva.
To learn more about the UK-Brazil Tech Hub, or the Future Females Business School programme in Brazil, please contact: andrea.motta@fco.gov.uk
The UK government's Department for Digital, Culture, Media & Sport (DCMS) is building a global network of Tech Hubs. The International Tech Hub Network aims to forge innovation partnerships between the UK and international tech sectors, stimulate local digital economies; and build high-end digital skills to drive sustainable jobs and growth.
Contact the network at: international-tech-hub-network@dcms.gov.uk
>>> ad: Check Out TODAY'S BEST Amazon Deals! <<<<
Originally Appeared Here