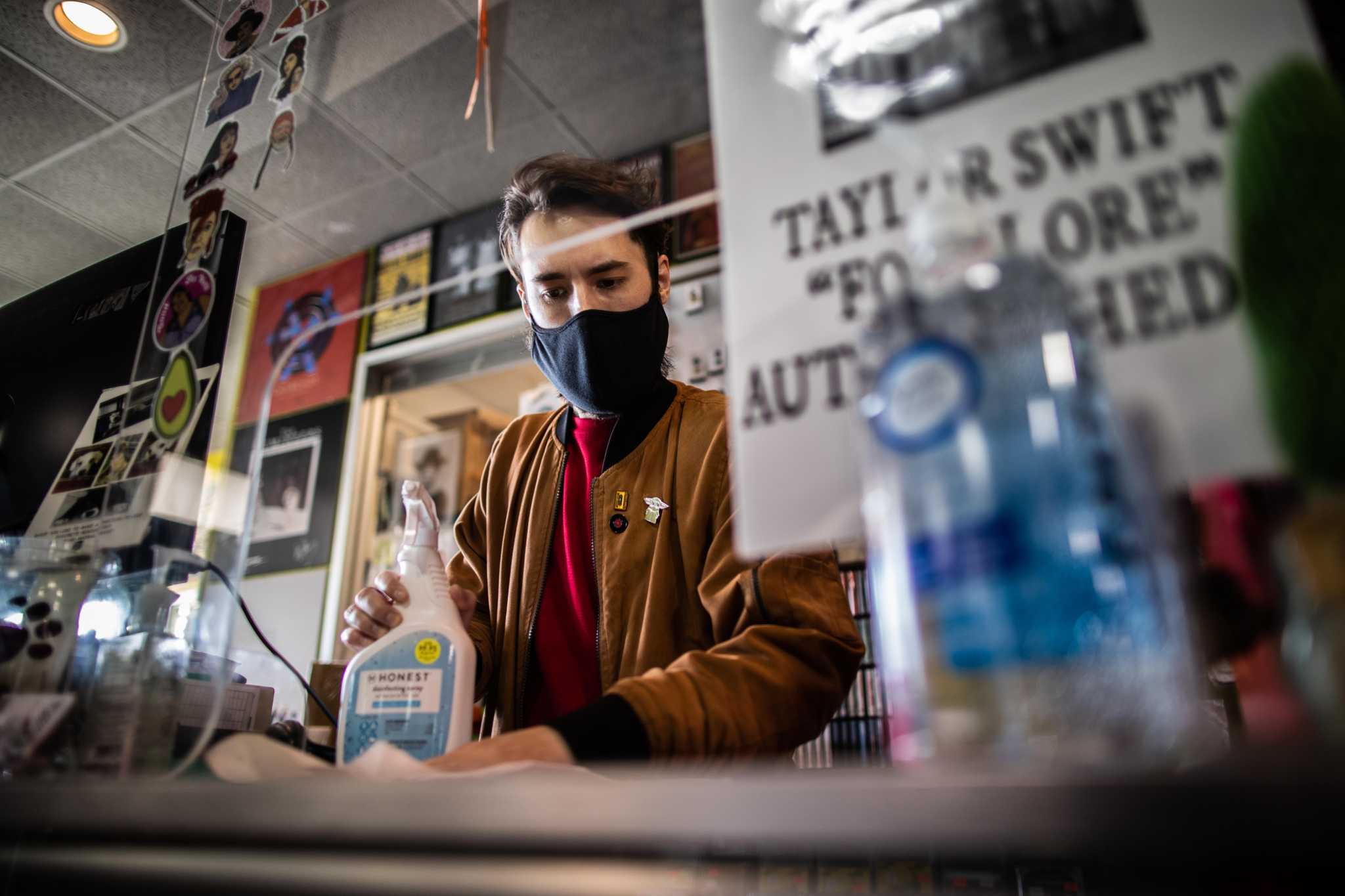 Steven Suarez worked on the door at Academy Sports in US 59 near Kirby so it was his job to enforce mask rules. He took it seriously. He felt he was protecting the lives of customers and employees.
Maybe the academy wouldn't have fired him on Monday if he'd taken it less seriously.
Elise Hasbrook, vice president of communications at Academy Sports + Outdoors, said the Academy will not comment on human resources issues for political reasons. But that's how it went here, according to Suarez.
1984

On Friday, a man and a young boy entered the academy's store on 59 in Kirby. The man wore a t-shirt with George Orwell's face and "1984" symbols, which have been popular recently with groups being driven out by Twitter and Facebook to spread misinformation and promote violence.
More important to Suarez was what the man wasn't wearing: a mask.
City and county ordinances require masks in buildings, with very few exceptions for adults. The Academy's guidelines, posted on its corporate website, read: "Masks must be worn in stores at all times."
Even so, Suarez says, people refused to wear them all the time.
Suarez followed the usual protocol: "Do you have a mask?" he asked.
"No," said the customer.
Suarez offered him a giveaway. The man refused.
Suarez pointed to the sign in the vestibule that lists the city and county mask regulations. "Sir," he said, "you must wear a mask to get into the store."
"I have asthma," he said. "I can't wear a mask."
Suarez didn't believe him. He thought the guy was great. And the Orwell T-shirt irritated him. He read "1984". It doesn't mean what anti-maskers think it means, he said.
But good. Suarez followed protocol and consulted with his manager, who said he should let the maskless man do the shopping. That, says Suarez, was what his managers always said in this situation: "100 percent of the time."
Suarez asked the man not to put other people in danger – to get his business done quickly and to keep your distance from other people. Instead, the man dawdled conspicuously and stayed within 15 feet of Suarez to play the arcade game near the firearms department.
Suarez admits he broke protocol. He muttered to a colleague, "This guy's an (expletive) one."
'Propaganda'

Finally the man bought a knife. On the way out of the store he stopped in Suarez. "What's your name?" he demanded and was close.
Suarez refused to say.
The man came closer. "My son heard you calling me (expletive)," he said, breathing into Suarez's face. "If you ever do this again, I'll break your (expletive) back."
The man yelled something about an amendment, says Suarez – the 13th? Or the 16? And he was definitely shouting something about "propaganda".
Suarez stared at a pair of scissors nearby. He wondered if he could use them to defend himself if he had to.
An employee stood between Suarez and the man and asked them to calm down. Managers came. The man left the shop and Suarez left to cool off.
Suarez got to work early on Monday, hoping to speak to his superiors. He wasn't proud of his comment and expected disciplinary coverage.
Instead, the store manager called the manager. They said the man made repeated calls to Corporate to complain. The academy fired him.
Suarez asked them not to. The academy was his full-time gig that he relied on to pay his rent. But the matter was settled.
That afternoon he called his manager at Cactus Music, his side gig, the place he worked on Sundays to raise a bit more money. He asked his manager Cristina Acuna if he could take on additional shifts. He explained why he needed her and burst into tears.
Acuna was angry. She tweeted about the incident through Cactus' account. "That," she concluded, "is a corporation (BS)."
'Preventive measures'

On Tuesday afternoon, Hasbrook said at the academy's corporate headquarters in Katy that she could not comment on the details of the case. When asked about the chain's general policy, she made an official statement:
Academy Sports + Outdoors is working to maintain preventive measures recommended by the CDC and local authorities, including supporting proper clearance requirements with floor markings and signs, professional cleaning, disinfecting cart and hand basket handles, and in-store hand sanitizer. We have also posted notices on the front of the store requiring masks as per local and state requirements. We work to communicate these guidelines to customers with courtesy and clarity. "
Hasbrook also referred me to the Academy's corporate website. There a page with the heading "Covid-19-Sicherheit" does not only refer to publication information. It is clear that the chain's preventive measures include the need to always wear masks in stores.
But what if a customer refuses to wear a mask or says they can't? Then what is the academy's minutes? Do you ask people to leave or do you let them shop?
"We don't want to create confrontations with customers," said Hasbrook.
I read this carefully formulated sentence to her and she agreed: a statement that is mainly characterized by what she does not say.
To be fair, it's the kind of inconclusive statement I would expect from almost any company spokesperson. Corporations and politicians use this type of language all the time to express uncomfortable truths.
It's what George Orwell, the 1984 writer, would have called "quizzical and sheer hazy vagueness".
lisa.gray@chron.com