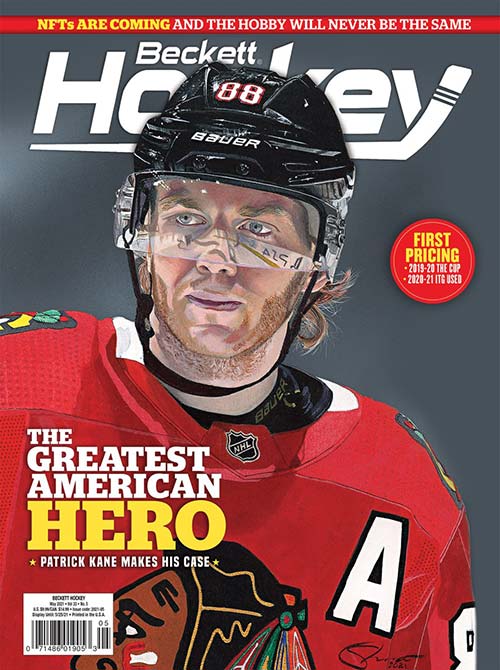 The first time Jamie Thomas saw artistic impressions of NHL stars inside an issue of Beckett Hockey, he knew exactly what he wanted to be. Now, more three decades later, the 41-year-old resident of Barrie, Ontario is living out his dream by having one of his pieces appear on the cover of the magazine.
Thomas is the talented artist responsible for the Patrick Kane portrait that graces this issue.
"Words cannot explain how excited and honored I am to have my work on the cover," he said. "I'm so proud and humbled for the opportunity, and I hope it's just the first of many times that my artwork is seen in the magazine. It's a dream come true."
Thomas has been a reader of Beckett Hockey since Day One. "Like most Canadians that collected hockey cards, I ran out to buy the first issue with (Wayne) Gretzky on the cover. Up until that time I'd mainly been drawing cartoon characters like Batman, and Bart Simpson, but when I saw (hockey) artwork inside the front and back covers it really lit a fire inside of me. I knew then that becoming a sports artist was what I wanted to do and I was only 10 at the time. Right then I had a goal to one day be in Beckett."
He points to the December, 1994 cover that celebrated all five players who had scored 50 goals in 50 games as having a tremendous impact.
"I remember it, with Gretzky, (Mario) Lemieux, (Brett) Hull, Rocket Richard and Mike Bossy. I wanted to do something similar and so I started my own drawing of that image. I still have it to this day. It's a little beaten up but it reminds me of where I got started in this art journey, and I pull it out every once in a while to have a look at it.
"Years later at a local secondhand store I managed to purchase a few old issues. I cut the artwork out of them and hung them in my studio to remind me of what I refer to as 'The Golden Years.' I call it that because the artwork in those magazines really helped me develop my skills by studying the work."
Thomas had no trouble finding inspiration for his Kane piece.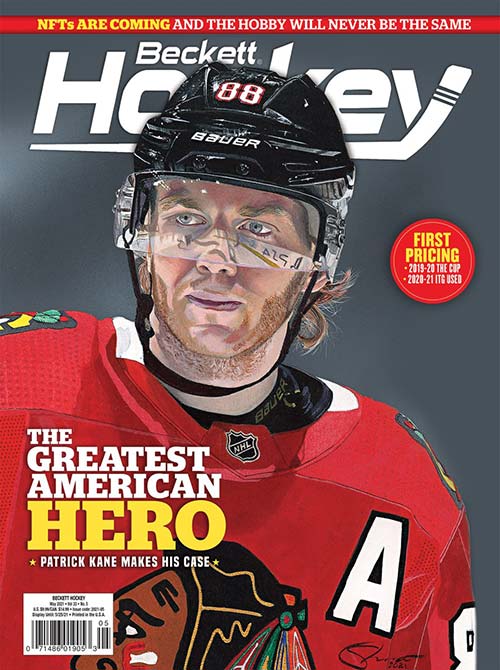 "I wanted something that would show his grit and determination, something that showed his focus on the game. He's had an MVP-type season with a rebuilding team and has pretty much been the heart and soul of the Blackhawks in 2021. I believe that this image shows that he's not done yet, he's not going down with-out a fight and he won't let the Blackhawks go down either."
Though he works full time as a transportation analyst, art is the defining feature of Thomas's life.
"Art is my side gig right now, but I still work at it six days a week and about five hours per day to complete all of my commissions," he said. "The dream is to one day be able to walk away from my full-time job and concentrate solely on creating sports art."
For more on his work, visit LegacySportsArt.com.
>>> ad: Check Out TODAY'S BEST Amazon Deals! <<<<
Originally Appeared Here