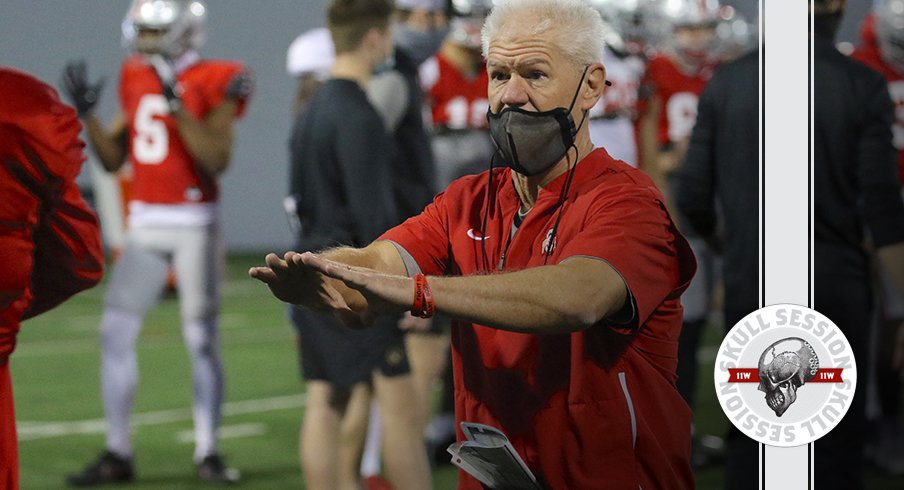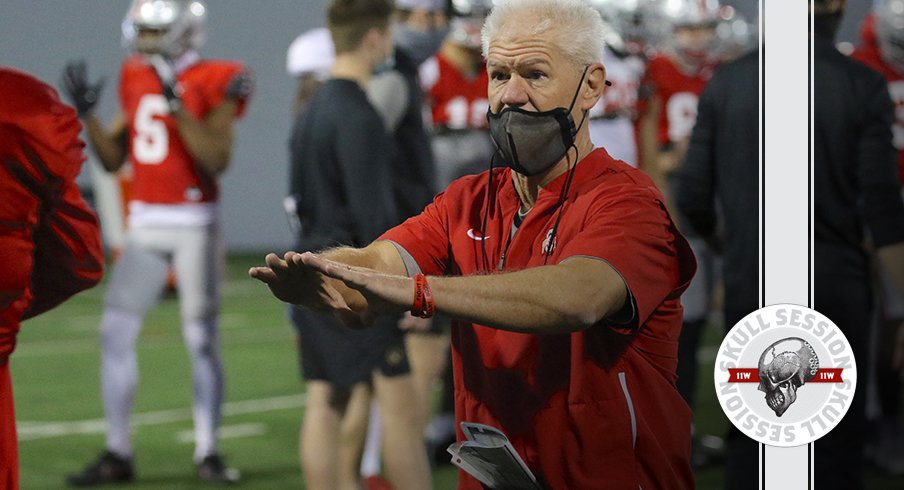 In the immortal words of the wise Rebecca Black, "It's Friday, Friday. Got to get down on Friday."
Word of the Day: Excoriate.
 OnE rEaD qUaRtErBaCk. Remember when everyone was insisting that Justin Fields was just a one-read quarterback who couldn't go through a progression?
Turns out, not only is he good at throwing past his first read, he's actually the best in the draft at throwing past his first read.
PFF Grade on throws past 1st read since 2019: (min. 60 attempts)
1st – Justin Fields – 90.6
2nd – Zach Wilson – 90.1
3rd – Trey Lance – 87.2
…
7th – Trevor Lawrence – 78.6
8th – Mac Jones – 75.7 pic.twitter.com/CEWpY86rwC
— PFF (@PFF) April 2, 2021
But sure, San Francisco. Use three first-round picks on Mac Jones.
 SIX FIGURE SIDE HUSTLES. This may come as a shock to you, but typing words online hasn't always been enough to pay all the bills, so your boy has done his fair share of side hustles through the years.
Apparently, some Division I coaches have faced some similar cash flow issues because they've hopped on that side gig game as well. Though I must be doing it wrong, cause I've never in my life gotten a six-figure check for selling my plasma.
In recent years, as the debate has culminated over whether college athletes should be allowed to earn extra money, athletic department employees have cumulatively racked up millions of dollars doing various side gigs.
This includes not only rank-and-file staffers moonlighting to make rent, but some of the highest-paid college coaches, like Harbaugh, who despite earning well into the seven figures from their public university employers, still found time to squeeze out a few (hundred thousand) bucks from the private sector.
…
Georgia head football coach Kirby Smart banked $130,000 in 2019 without muttering a word in a television spot for the Ford F150. Scandalized ex-LSU and ex-Kansas coach Les Miles received $25,000 for pretending to water a football field with beer in a Dos Equis ad in 2018. Miles' successor in Baton Rouge, Ed Orgeron, made $226,000 from the Louisiana-based restaurant chain, Raisin' Canes Chicken Fingers, between 2018 and 2020.
…
Alabama's Nick Saban—the highest-paid college football coach—nabbed $350,000 in corporate speaking engagements from 2018 to 2019. Clemson's Dabo Swinney reported making $75,000 to $150,000 in speaking and appearance fees at churches, "various locations in (the) southeast," and as part of the Chick-fil-A Peach Bowl Challenge. (North Carolina State's Dave Doeren took in $5,000 for his participation in that annual charity golf tournament.)
To be clear, I have no qualms at all with a guy earning a small fortune for doing almost nothing. I mean, let he who would not accept $130,000 for a three-second clip of you driving a red truck cast the first stone.
I'll just be happy when it's open season for the athletes to do the same.
 MUST-GET PROSPECT, IMO. I am delighted to inform you that Ohio State has just offered a fellow who might actually be my favorite college football prospect of all time.
After a great call with @R2X_Rushmen1 @DB_CoachCoombs @ryandaytime I'm honored to announce that I have received an offer from @OhioStateFB @PPIRecruits @BCollierPPI @CoachRouz @BuechsRoland pic.twitter.com/Cyrb51aNh8
— Hero Kanu (@HeroKanu) April 8, 2021
I'm nearly positive you haven't heard of him and his modest three-star ranking as just the No. 24 defensive tackle in the country doesn't turn many heads, but I will be nothing short of furious if he doesn't end up in Columbus after reading his full story.
Hero Kanu assumed the call on was merely an introduction. After all, Kanu had played in exactly one high school football game. The previous Friday, Kanu's Santa Margarita (Calif.) Catholic team had opened its COVID-19-delayed season with a 54-16 win against Mayfair. The game itself was as fun as the 6-foot-4, 293-pound defensive tackle always imagined it would be when he watched American football on TV back home in Germany. When Kanu got on the phone with Washington assistant Rip Rowan on March 15, Kanu figured Rowan was establishing a relationship that — with a great spring season and a good camp circuit in the summer — might ultimately lead to a scholarship offer.
Then Rowan stunned Kanu. "He said, 'Hero, we're offering you a full scholarship,'" Kanu said this week. Kanu had played well against Mayfair, blasting through blockers to make plays implode.
…
How could he? Eighteen months ago, Kanu was a large kid in the small Bavarian town of Geltendorf (population: 5,600) who dreamed of playing a sport he'd only seen on television. Now he has offers from the aforementioned schools as well as Oregon, Michigan, Colorado, Arizona, Arizona State and TCU. How did he get here?
Yes, he was offered a scholarship by multiple schools after playing one (1) high school football game. And after watching the tape, I get it!
@HeroKanu last night making plays
First varsity game in California
65 290lbs 16 years old @CoachMikeElston @R2X_Rushmen1 @CoachE_TAMU @CoachToddBates @JayValai pic.twitter.com/4WkKoWK80M
— Brandon Collier (@BCollierPPI) March 13, 2021
The article is a fantastic read on an absolutely fascinating prospect, but the TL;DR is that he played soccer in Germany until his frame accidentally started resembling Warren Sapp instead of Mats Hummels. Then, he tried the other football.
When he arrived in California, he could bench-press 225 pounds three times. Now he has a one-rep max of 315 pounds. His one-rep squat max has jumped from 355 to 475. "He's Quadzilla," Rouzier said. "His lower half is ridiculous."
So to recap here, we're looking at a kid named "Hero" who's 6-foot-5 and pushing 300 pounds at 16 years old, earned multiple Division I scholarships after a single game of high school football, and has the nickname "Quadzilla."
If that's not a must-get prospect, I don't know who the hell is.
 STAYING HOME. There's going to be an in-person element to this year's NFL Draft, but Wyatt Davis will not be participating.
Ohio State guard Wyatt Davis, one of the top O-linemen in the draft, was part of the first wave of players asked to be in Cleveland for the NFL Draft. Davis declined the invite so he can watch with his family, but hell be participating virtually.
— Ian Rapoport (@RapSheet) April 8, 2021
Solid move, in my opinion. The draft takes too damn long. Sitting on your own couch is the way to go. Though I will admit, I might be a little more patient with the draft process if I were about to become a multi-millionaire.
 SONG OF THE DAY. "What Kind of Love" by Childish Gambino.
 NOT STICKING TO SPORTS. What happens to your eyes when you stare at screens all day… Elon Musk's business partner says he could build the real 'Jurassic Park,' with genetically engineered dinosaurs… This man is looking for the friends who shipped him overseas in a crate in 1965… The five deadliest national parks… The University Of Kentucky mistakenly accepted 500,000 to a program that typically accepts three dozen applicants…  A woman sets a field and swamp on fire in a maple syrup mishap…