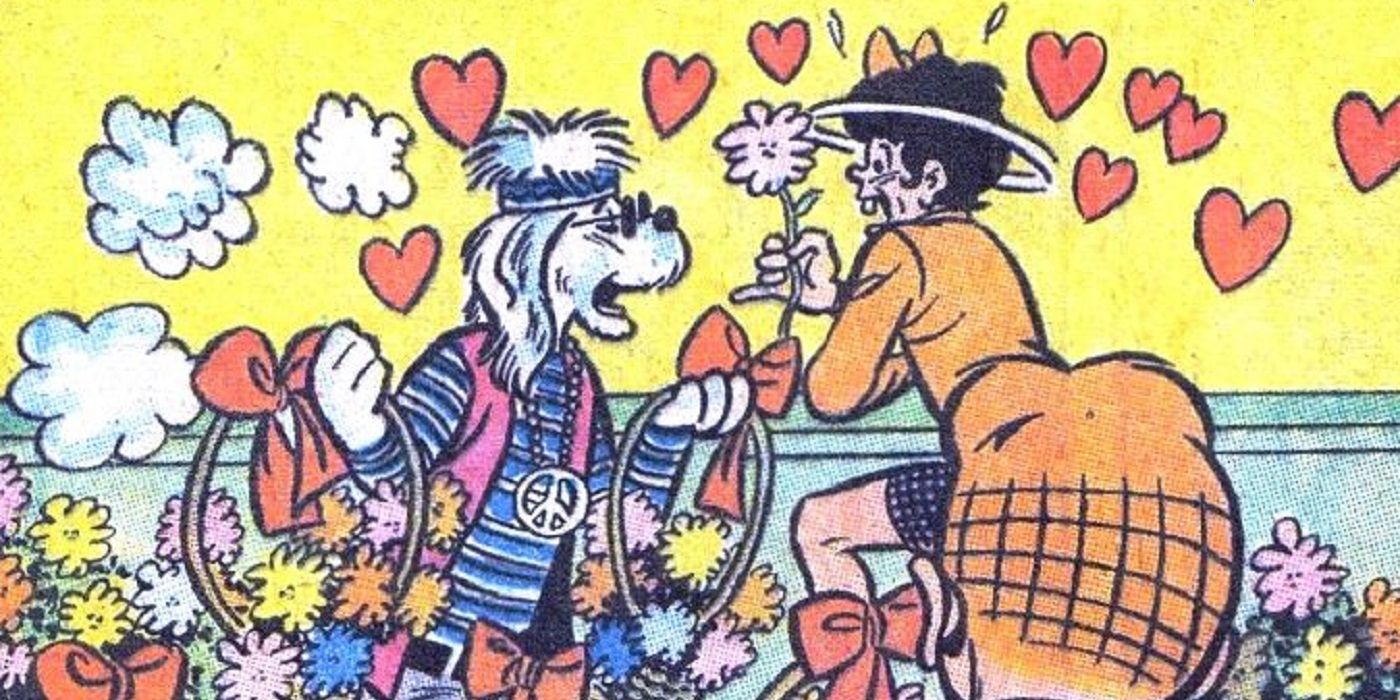 In every episode of I Love Ya But You're Strange, I introduce weird, but ultimately lovable, comic stories. Please send me an email at brianc@cbr.com if you have a suggestion for a future installment!
Today we're looking at an absolutely BONKERS story by Al Hartley and Joe Sinnott in Archie Giant Series Magazine # 196 from 1972.
Comic book creators come from all walks of life, obviously, but as far as I can tell, Al Hartley is the only one whose father was a famous United States Congressman. Fred A. Hartley was a Republican from New Jersey famous for the Taft-Hartley Act, an act that Republicans pushed through Congress once they regained control of the House of Representatives for the first time since the 1930s. The Taft-Hartley Act severely restricted the power of unions. President Harry S. Truman vetoed it, but the law actually had a lot of Democratic support, so the veto was lifted and the law remains in force to this day (although both Jimmy Carter and Bill Clinton nominally lifted some restrictions on certain species supported by union strikes). All of this happened when Hartley started his career in comics.
Keep scrolling to read on
Click the button below to start this article in quick view.
Hartley has done a few humor jobs for various companies, but his career really started when he started working for what was then called Timely Comics in the late 1940s. As well as being a talented artist, Hartley was a good writer, and so he was one of the first Timely artists to start working on the "Marvel Method", with Stan Lee only providing a dialogue about Hartley's humor series Timely led / Atlas. The king of humor comics at Timely / Atlas at the time was Dan DeCarlo, and with Hartley, Timely / Atlas had some of the best humor comics out there. DeCarlo took care of Millie the Model while Hartley made Patsy Walker's comics.
In short, Hartley gave superhero comics a shot with a Thor story in an early Journey into Mystery, but he was better suited to humor (he also drew western comics and war comics for Atlas, but humor was his forte). Like DeCarlo, Hartley was one of the most famous "good girl" artists of the era. As a side appearance, Hartley was one of the artists who drew the R-rated pussycat strip for Martin Goodman's men's magazine line from Atlas / Marvel Publisher.
In the late 1960s, Hartley became a born-again Christian, and around the same time he moved to Archie Comics, where his old colleague Dan DeCarlo had been earlier in the decade (in the late 1960s, Marvel largely got out of the humor comic business as their superheroes Comics boomed so strongly). Hartley became one of the most successful Archie Comics writers / artists (he later even licensed the Archie characters for a number of Christian-themed comics, but I'll talk about Hartley's spiritual side in the future).
Hartley was one of the most inventive humor comics creators there was, but boy did I sometimes wonder what was on his mind when he came up with some of these offbeat acts. A perfect example is the story we're talking about today, "Hot Dog With Relish" from Archie Giant Series Magazine # 196 from 1972. It's supposedly a Christmas comic book story, but not really. Hartley is inked by his old Atlas colleague Joe Sinnott, who does a rare Archie job during his time as Marvel's top inker.
The concept of the story is that Sabrina sees Hot Dog, Jughead's great German Shepherd, and she feels bad that he can't enjoy life the way humans do, so she uses her powers to basically turn him into an anthropomorphic dog like goofy. He's still a dog, but he walks and talks like a human. In an amusing riff about the way hippies wore their hair at the time, no one really realizes that hot dog is a dog and everyone just assumes they're a long haired hippie. That's pretty damn crazy. But it's getting stranger!
One of the fun things about longtime comic book companies is that you occasionally have to come up with ideas that might have sounded like a good idea in 1950 but look really messed up now in 2021, and I don't mean the super racist stuff. I mean things like the character of "Big Ethel" Muggs, a teenage girl whose whole thing is that she looks weird and that nobody wants to date anyone, and that's why she's a crazy boy and usually particularly interested in Jughead . The great Samm Schwartz nominally invented Ethel in a 1962 Jughead story, but VERSIONS of Ethel existed by various names dating back to 1948 (the same basic prototype. Gangly tall girls just wanting to be loved, which is weird, of course is reader from 1955). Over the years, Archie Comics have dropped the "big" part of their name and redesigned it to make it less "well".
Still the classic version of herself in 1972, however, she rushes to Pop's Diner to find the "new man" in town before anyone can claim the new man …
And then Sabrina just goes, I don't know, drives you crazy? Insane? I really don't know what the hell she's thinking, but for some reason Sabrina thinks it's a good idea to use a spell to make hot dog and Ethel fall in love. The fascinating thing is that you can imagine something like a cruel prank, but Sabrina seriously thinks this is a good idea, well I can't imagine why …
Sabrina, who is already crazy about power, then decides to use her powers to force Pop Tate to serenade Ethel and this monstrosity that Sabrina created with a love song. As Ethel prepares to really get caught up in some bestiality, the violins strike a note that hot dogs dog ears must respond to, and he starts howling …
Sabrina's solution is to just charm him back to a dog and blow him up. This is somehow viewed by Ethel as another bad thing that happened to her rather than a supernatural event, and then Sabrina comforts her (about the mess Sabrina herself just created!) And then "weird" Ethel cries accompanied by the hot dog that goes back to a dog …
This is a messed up comic book story! But not so confused that I won't keep it in this column (unlike Remember to Forget).
If anyone has a suggestion for a future I love but you're weird, email me at brianc@cbr.com!
WandaVision's newest breakout star has an important omega-level mutant connection
About the author
Brian Cronin
(14648 articles published)

Brian Cronin, Senior Writer at CBR, has been a professional contributor to CBR comics for over a dozen years (primarily with his "Comics Should Be Good" column series, including Comic Book Legends Revealed). He wrote two books on comics for Penguin-Random House – Was Superman a Spy? And other comic book legends revealed and why does Batman wear shark repellants? And other amazing comic trivia! and a book from Triumph Books, 100 Things X-Men Fans Should Know and Do Before They Die. His writing has been published on ESPN.com, the Los Angeles Times, About.com, the Huffington Post, and Gizmodo. On his website, Legends Revealed, he features legends about entertainment and sports. Follow him on Twitter at @Brian_Cronin and email him suggestions for stories about comics you would like to see at brianc@cbr.com!
More from Brian Cronin