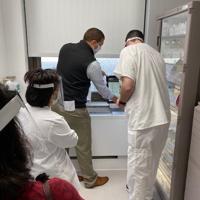 POCATELLO — Idaho State University's College of Business is once again proving that it's living up to its promise of not only improving the lives of students but also the lives of members of the community — this time by helping disabled entrepreneurs.
In September, the College of Business — led by management professor Neil Tocher and Dan Cravens, Bengal Solutions director and clinical assistant professor of management — received a $50,000 award after participating in the Growth Accelerator Fund Competition, an annual event put on by the U.S. Small Business Administration.
The 84 GAFC winners are accelerators and incubators who made proposals targeting underrepresented STEM and research and development entrepreneurs.
Story continues below video
The College of Business's award money will be put toward hiring graduate assistants in Bengal Solutions who will assist disabled entrepreneurs working in the assistive technology industry — which creates products to help people with disabilities perform functions that otherwise might be impossible — apply for Small Business Innovation Research (SBIR) grants. The grants are intended to help small businesses conduct research and product development.
"This is a wonderful program, and we're very excited about it," said Shane Hunt, dean of the College of Business.
'A TREMENDOUS BENEFIT'
For Tocher, the department chair of management and marketing, this funding hits close to home.
He's legally blind, and he says that non-disabled people can't think of everything that could help a person with a disability because they don't have the same lived experiences.
"You don't think about it until it affects you," he said. "So many things with the pandemic that people are doing now, like telemedicine and Zoom meetings, I've had to do that stuff for years because I can't just drive to every meeting I have, so I have to figure out ways to have meetings and that sort of thing."
He added, "Sometimes it takes knowing a disabled person to kind of know what the challenges are."
Once a new kind of assistive technology is released, it can be life-changing for a disabled person, Tocher said.
"The idea is, generally, a lot of people who are disabled see ideas for products that would help them navigate life easier and be more productive individuals in society if they just had some technology that would allow them to neutralize whatever their shortcoming is," he said.
There are many ways in which navigating the world is more complicated for him, but one piece of technology that makes his life more similar to someone without a vision impairment is screen reader technology — something installed on every iPhone but that most people wouldn't think to activate.
Screen readers, which are a form of assistive technology, read aloud everything that is on a screen, letting people with vision impairments do things such as read and write emails, read articles and much more.
One of the ways that Tocher sees that technology being used in the future is having it be installed on every kind of technology that has a touch screen, not just cellphones and computers. Touch screens are now on all sorts of things, from ovens, washers and dryers, and even refrigerators.
"Those are a real problem for anybody that doesn't see very well, for anybody who is significantly dyslexic, and that number of people (with vision impairments) is increasing rapidly because the population is getting so old in the United States of America," Tocher said. "Many people who get old don't lose their sight entirely but they lose significant portions of their sight."
By helping disabled entrepreneurs who are specifically working in assistive technology, they will be helping people live more productive lives.
"With assistive technology, we're not only helping entrepreneurs, but when folks with disabilities have access to better, more innovative assistive technology, it better helps them live their lives and be productive in society and be happy," Cravens said. "There's a tremendous benefit to this community, where they're able to go out and work and be successful in school. I worked in the assistive technology industry for six years before I came to Idaho, so I'm familiar with this industry and how impactful it is."
By limiting their award money to helping this niche group, they will be helping "a group that does not usually receive a lot of attention," Cravens said, adding that they will be working with entrepreneurs from around the country, not just in Idaho.
"We don't think about disability and how that sometimes is a business opportunity until you know somebody with a certain disability, and that's why we jumped on it and focused on it," Tocher said.
'AMERICA'S SEED FUND'
According to sba.gov, Growth Accelerator Fund Competition prizes are "awarded to accelerators, incubators, and related entrepreneur programs proposing impactful assistance to STEM (Science Technology Engineering Math)/R&D entrepreneurs … who focus their proposed efforts on assisting the following groups: women entrepreneurs, minority entrepreneurs, entrepreneurs building technologies to address key policy issues such as clean energy and supply chain resilience, or an underserved target group."
Brittany Sickler, senior innovation policy adviser for the SBA's Office of Investment and Innovation in Washington, D.C., said the awards given out are intended to connect entrepreneurs with organizations that can help them get their ideas off the ground.
"The Growth Accelerator Fund Competition is all about funding accelerators or incubator programs to support entrepreneurs in the STEM and R&D world," she said. "… It's an indirect way to help targeted populations of entrepreneurs around the country be able to receive SBIR funding to build out their innovations."
Roland Tibbetts, who founded the SBIR program, once said the grants are intended "to provide funding for some of the best early-stage innovation ideas — ideas that, however promising, are still too high risk for private investors, including venture capital firms."
The SBIR program now grants more than $4 billion across the 11 federal agencies that fund startups.
"The SBIR program is basically known as America's seed fund," Tocher said. "What it does is it funds entrepreneurs who have technology or any other commercializable item to come to market. It focuses on underserved groups — rural America, minorities and women. Disabled people fit into that as a minority and so does Idaho as a rural area."
Tocher said that many entrepreneurs are overwhelmed by the process of writing a grant. That's where the College of Business — specifically Bengal Solutions — will be stepping in.
"They would still have to develop the technology, but what we would help them do through this award is some of the market research that needs to go into those grants and then putting the writing together," he said.
The award funding will last a year, but Tocher said they're hopeful that they can get more funding in the future to continue with the program.
"We tried to get a more long-term grant and that got turned down for this year," he said. "We're going to apply again next year. We wanted to, with the long-term award, create a grant-writing service for any SBIR candidate throughout the state. That grant didn't get quite approved but they gave us this award instead."
Bengal Solutions is a business consulting group that operates within the College of Business. It uses graduate students to provide consulting services in and out of Idaho.
While the new funding — which they officially received on Sept. 30 — to help disabled entrepreneurs is a boon for the program, it will continue to help all types of entrepreneurs. The funding will allow the organization to add two more graduate students specifically to work with disabled entrepreneurs.
"It's an underrepresented area and folks with disabilities can think about what would be good product- and services-related ideas that would be helpful for those with disabilities," Cravens said. "A lot of times they don't know how to bring that idea to fruition, to commercialization. We're very excited about educating them about the SBIR grant program, the opportunities it provides, and then helping them be successful as entrepreneurs and to get these products into the hands of folks with disabilities who could really, truly benefit from them."
Cravens said one of the first steps they will take with the award money is to figure out what some of the barriers for entry are.
"Probably our first steps in this process are going to be to learn what are some of the barriers that this specific class of entrepreneurs have — what prevents them or causes some difficulty in being successful," he said. "Once we've learned about that, we'll be better able to address the needs of entrepreneurs with disabilities who are working in the assistive technology industry."
Tocher said they will be working hard inform people of this new opportunity.
"The first year, our goal is to get the word out, to get some trainings done on what SBIR grants are and how they are applicable to any entrepreneur with a disability and then hopefully get one or two applications from a disable entrepreneur in the pipeline," he said. "The goal next year and the years following, we need to get many applications in the pipeline and increase the awareness anybody who's a disabled entrepreneur has about this program, SBIR grants."
'THE CORE OF OUR MISSION'
In previous interviews with the East Idaho Business Journal, Shane Hunt has emphasized that the College of Business wants to help the community as a whole, not just students. This new funding helps further that latter goal.
"What we're done with this SBIR funding is it provides our college with additional community-facing resources to help entrepreneurs develop business ideas, to commercialize ideas, to move forward and move their companies forward, which all has a positive impact throughout the region," Hunt said.
The College of Business is focused on economic development in the region and Hunt believes this is a win for the college when it comes to that.
"This is a direct extension of what we are trying to do," he said. "We are focused on education and providing a world-class business education to our students, but then we also focus on helping grow businesses in Southeastern Idaho."
Hunt said that helping underserved communities is one of the ways to build more economic development in the region.
"As a college, we are committed to helping anyone of any background who has dealt with any challenges live the life and have the professional life of their dreams," he said. "This is a way for us to make specific inroads in helping disabled entrepreneurs achieve their dreams and overcome any obstacles there may be. We are super excited about it. I think it is at the core of our mission to drive economic development and growth in our region, and this great award that Dan (Cravens) and Neil (Tocher) and everyone helped make possible is something that is going to move it forward."
According to Cravens, this award is something Bengal Solution is excited to implement.
"We want to be impactful and serve people," he said. "We feel very much that education has a role and not just educating people to be successful in their careers but to teach them how to be good servants to others. That's very much the philosophy of Bengal Solutions but I would add also the College of Business and I believe Idaho State University as a whole as well."
>>> ad: Check Out TODAY'S BEST Amazon Deals! <<<<
Originally Appeared Here