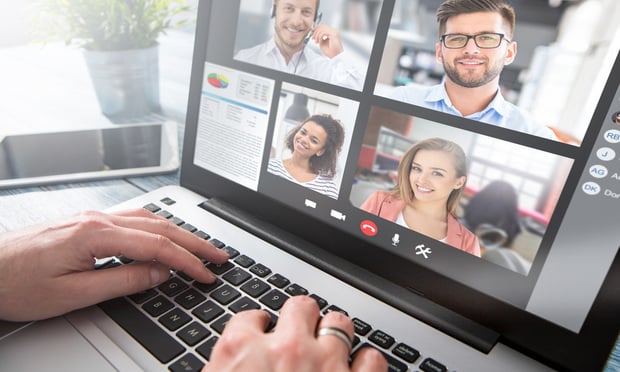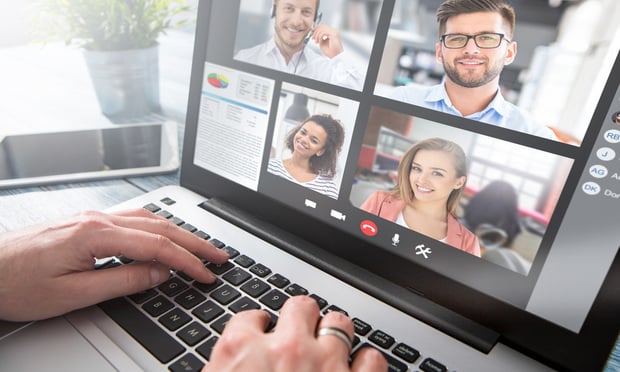 Setting goals for who you want to meet, blocking time on your calendar for meetings and actively participating on networking apps can make it much easier to connect with other meeting attendees. (Photo: Adobe Stock)
To adapt a line from the old Madonna song, "We are living in a virtual world, and we have all become virtual people…"
In pre-COVID days, most of us would have had a full travel schedule and planned to attend multiple conferences and meetings this spring. Even with the introduction of several vaccines, travel plans are still on hold for many, and it is unlikely that business travel will reach the levels seen previously.
One of the great things about attending industry events besides the education is the opportunity to network — make new contacts, catch up with old friends and just hear about what's going on in the industry. With the advent of virtual events, those activities can be a little more difficult to execute, so PropertyCasualty360.com asked some industry experts how they are doing it successfully.
Plan your networking
For conference organizers, it's important to have some sort of networking app that will allow attendees to engage, both one-on-one and in smaller groups. There are many options in this realm, such as Hopin, WhatsApp and Brella.
When attending an event, look over the attendee list beforehand and see who you'd like to meet and use the networking apps to reach out ahead of time. Make sure to fill out your profile and include a professional headshot. Virtual networking requires more planning since bumping into someone in the buffet line, or a hallway isn't going to happen.
"Having a very easy-to-use app such as Brella is very helpful," says Tim Christ, vice president of growth at Claimatic. He recommends sending people the registration link for a networking app to "load their profiles" in advance and to answer a couple of basic questions, such as: "If I could meet the following type of person at this conference, it would be ____. Or, I'm interested in hearing from vendors who do XYZ."
Meeting organizers and attendees also have to make the time to network. "Connect and set up 15-minute meetings [and] request connections," advises Marc Tebbens, chief of staff and business operations for Conduent.
Mark Walls, vice president of communications and strategic analysis for Safety National, finds how well the networking functions depends on the platform. "Hopin has a speed networking section that matches you up at random for a short conversation. I have heard good feedback on this."
Christ also suggests that event sponsors consider organizing three-minute "speed pitch events" that are not driven by sponsorship but are simply a value-add to regular attendees to help them learn about the different types of technology and other solutions that are available to the industry.
Along the same idea, Lori Pon, director of claims transformation and the claim contact center for AAA, finds "participating in virtual round tables is a great way to network. I've made so many great connections!"
Once you connect with someone, consider what information to share. "I'd say, get your 'social pitch' right," advises Christian Harris with TheSAFERPortal.com. "Have a 45-60 second response to: 'Who are you and what do you do' that is concise, credible and compelling. It's harder than you might think, but it makes all the difference and stops you [from] waffling on, which makes you a better participant and makes it easier for others with who your message might resonate."
Being proactive about networking can be a huge determiner in how successful your efforts will be. Consider participating in virtual event games, and use the chatbox during a presentation to pose questions, share pertinent comments or greet others who are attending the event. Actively participating helps build trust and a connection with other attendees.
Be social on social media
Use social media sites like LinkedIn, Twitter and Facebook to promote the event and your attendance beforehand. Throughout the event, post what you've learned, highlight specific sessions or speakers, share other relevant feedback or post articles related to the topic.
Consider reaching out to the presenters on LinkedIn if you're not already connected. Attending their presentations provides common ground and an easy way to reach out after the fact.
"When I am an attendee, I take copious notes during sessions and follow up with a customized note to the presenter," shares Gregg Golson, CPCU, a vice president at J.S. Held. "If an attendee I know or want to meet makes a relevant comment or asks an interesting question during the session, I write down their name and the comment or question. This gives me an ice-breaker to use when I virtually introduce myself."
Finding new ways to connect
"COVID has forever changed how we will network and consume information in the future," observes Henry Dicker, senior vice president of client engagement for Lowers Forensics.
This forced evolution requires creativity to find new ways to connect and maintain that critical human connection. Technology has tested everyone, made many far more flexible and gracious (particularly when pets or children join in conference calls or presentations), and encouraged innovative solutions for connecting.
"I organized a client webinar presentation tied to a 'post workday' wine and cheese tasting," shares Dicker. "I sent the attendees (10) in advance the selection, including crackers and a cheat sheet about each bottle and each cheese. We purposely kept the 'pitch' short…A 15-minute infographic presentation which we surrounded both before and after with ample networking and sharing of thoughts on the wine and cheese selection." It was a new approach to hosting a virtual party.
In a world of Zoom meetings, it's hard to read body language, pick up tidbits of information in casual conversation or learn more about someone beyond their name and title. "Facial expressions are needed for building meaningful connections," contends Awais Farooq, CPCU, U.S. insurance practice lead for ActiveOps. "When we were in the office or at conferences, it was the small details about people that caught our attention. Whether it was the sport they played in high school, fun names of their pets, how many kids they have or their favorite restaurant in the area. Creating a short video about yourself and sharing it with others has helped me bridge many great interactions. People want to know who you are, not just a face that nods during a virtual meeting, but rather the character that you bring to the table. It is difficult to share your energy due to the limitation of time and the number of attendees."
This conference season, be proactive about introducing yourself to those in the industry, be professional, look for unique opportunities to connect and remember that everyone is trying to succeed in this virtual world.
Join us at the 2021 America's Claims Executive Virtual Leadership Forum (ACE) on May 4-6, 2021, for the annual gathering of professionals leading, managing and innovating the claims process and customer experience. View this year's agenda here.
Related: