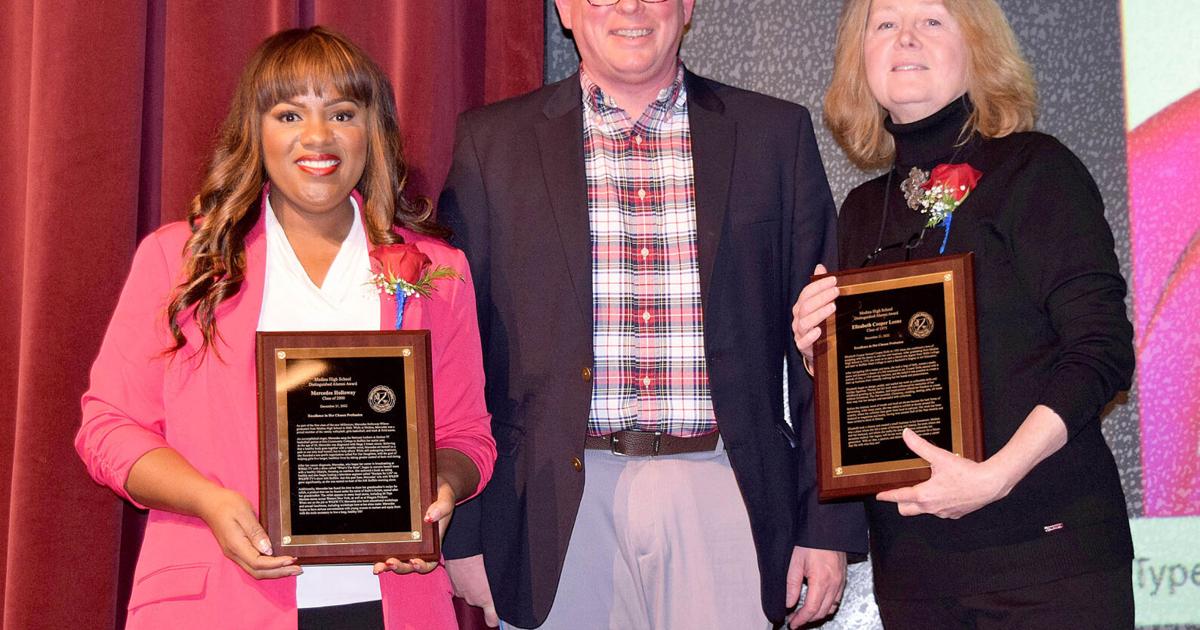 Medina High School hosted the annual MHS Distinguished Alumni recognition ceremony on Dec. 21. Graduates Elizabeth Cooper Leone, Mercedes Holloway Wilson, Kate Schirmer Messner and Christopher Parada are the 2022 honorees.
The award recognizes alumni who have made outstanding contributions to their community and / or their career field. As MHS Principal Michael Cavanagh observed during the ceremony, "The people that we honor today are proof that we are all capable of achieving greatness and truly making a difference in society."
Elizabeth Cooper Leone, class of 1975, formed Cooper Dolls in 1993 and turned her love of sculpting into a business. She designs, sculpts and markets collectible clay dolls and holiday figurines, at the outset incorporating themes in her work of her memories of growing up in Medina. Cooper Leone has won several Doll of the Year awards and was invited to show her work at Disney.
Mercedes Holloway Wilson, class of 2000, is the founder of the nonprofit organization For Our Daughters, which encourages girls to live longer, healthier lives by taking charge of their wellbeing. Her inspiration was a stage two breast cancer diagnosis when she was only 28 years old. Holloway Wilson is now in the broadcasting business, having launched "What's the Buzz" at WBBZ-TV, hosting "Recipes for Life" on WKBW-TV's "AM Buffalo" and then becoming co-host of "AM Buffalo". She's also behind the manufacture of Sadie's Relish, from her grandmother's recipe; the relish is available for purchase in numerous local stores.
Kate Schirmer Messner, class of 1988, has written more than 50 children's books, fiction and nonfiction, and was the 2022 winner of the Empire State Award for Excellence in Children's Literature. The New York Times bestselling author was a TV news producer and reporter, and a middle school English and writing teacher, before she began writing books.
Christopher Parada, class of 2002, is the executive director of Historic Palace Theatre in Lockport, and has directed more than 75 shows during his more than 15-year tenure with the Palace. He has had a key role in the $4 million renovation of the almost 100-year-old movie house, and as a member of the Light Up Lockport committee he's one of the forces behind the annual holiday season "kickoff" celebration downtown. Parada's "side gig" is portraying Santa Claus at Christmas Cottage in Day Road Park every December.
>>> ad: Check Out TODAY'S BEST Amazon Deals! <<<<
Originally Appeared Here