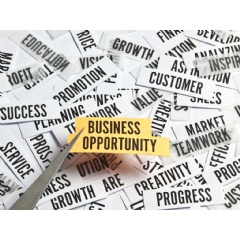 Jose Duarte explains how to find new trading channels or solutions that entrepreneurs can use to grow their business.
San Jose Costa Rica – WEBWIRE – – Wednesday February 10, 2021
Research your current industry as well as related industries to find areas that you may be able to leverage. Use whatever is available to you including specialist publications, websites, networks, and anything else you can use.
The start of the year is a good time to start a business. But of course you need to find a successful concept first. You have to generate a lot of ideas to find one that will be successful. Jose Duarte, an entrepreneur and e-commerce expert from Costa Rica, knows how to generate ideas in any context, whether through the aisles of the store or in meetings with his team that is designed just for that. He offers eight techniques that can increase creativity in order to find profitable business ideas.
Successful business ideas are usually those that are one step ahead of the existing ones. Think about the trends and technologies that are on the horizon and how you can get into those areas. Duarte suggests thinking about innovations related to your home and lifestyle and how they will change in the future.
Your new business doesn't have to reinvent the wheel. ?? Take a look at what the big players in the industry are missing and see how you can fill those gaps. ?? explains Duarte. This requires looking at the industry through a different lens and considering all possibilities. Even the smallest difference can lead to something big.
Think about what your skills are and how they could be useful in other areas. Entrepreneurs don't have to stick to just one path of a particular market, especially when their knowledge and experience can be easily transferred to other areas. Always be aware of how existing skills can be used in other areas.
In the brainstorming process, it helps to identify markets that haven't had a lot of innovations recently. Duarte Says: Research your current industry as well as neighboring industries to find areas that you may be able to leverage. Use whatever is available to you including specialist publications, websites, networks, and anything else you can use.
Businesses typically make their first sales by selling an existing product at a lower price. Often this can be achieved simply by procuring new material. Many companies are becoming complacent with their current activity and are not looking for new ways to offer the same solution. This is a mistake that is regularly exploited.
To generate an idea related to people's needs, there is no better way than talking to the same buyers. ?? If you are into mountain bikes ?? says Duarte, go into the aisles of the sports shops and ask the customers what they would like to find in them. If you are looking to build an ecommerce business, you should complete an online survey to find out what interests and needs potential consumers have. The concept of ease of use is used to define how easily the user can access information by browsing a website. However, it can also be applied to any product that will reduce the time spent looking for information. Design a solution that responds to consumers' tastes and preferences and gives them a more personalized opportunity.
The idea of ​​covering an audience that normally doesn't consume a product has led to many successful businesses. Choosing a new audience for existing product lines is one of the easiest ways to find new growth. One way to expand the audience of a product is to think about the barriers these other consumers have to approach the product and find a way to resolve them.
Stroll the aisles of a medical, hardware store, and toy store and mix and match products from each, Key says. That should give you the spark of having some new ideas, though you need to be prepared for the fact that most of them are bad. You will come up with terrible ideas, and only occasionally will you find a good one, but maybe it is brilliant.
About Jose Daniel Duarte
Jose Duarte is originally from Heredia, Costa Rica. He has been an entrepreneur and business owner for more than 20 years, dividing his time between his existing activities and researching new investment opportunities. When he doesn't have time to do business, he spends time with his supportive wife and two children.
(Image of the press release: https://photos.webwire.com/prmedia/59406/270210/270210-1.jpg)
Related links Jose Daniel Duarte
WebWireID270210
Jose Daniel Duarte

Contact Information Jose Daniel Duarte Media Manager Jose Daniel Duarte Contact by email
This news content can be incorporated into any legitimate news gathering and posting endeavor. Linking is allowed.
Press release distribution and press release distribution services provided by WebWire.