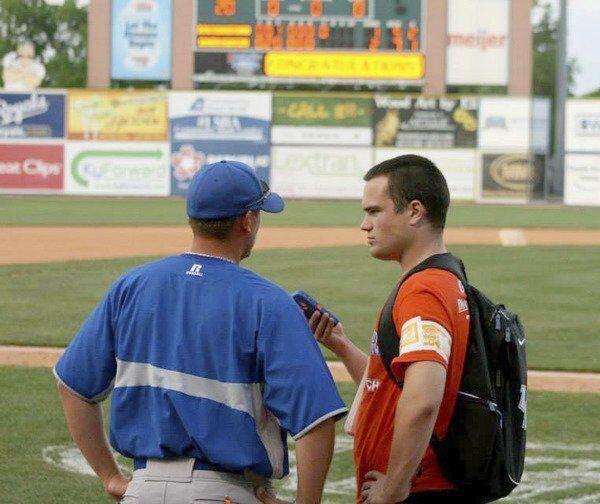 After over a thousand of my articles have appeared in the sports section of the Commonwealth Journal over the years, this will be my final one.
Following some recent exciting life changes and nearly 13 years in the position, I have decided to retire from sports writing to allow myself to focus more on my relationship with God, my family (especially my new son, Luke), and my career in education. Don't get me wrong, this is an extremely tough decision, but now is the right time for me to step back.
I covered my first game for the Commonwealth Journal on August 31, 2009, when I was a 17-year-old senior at Southwestern High School. When sports editor Steve Cornelius reached out to me about covering a game for the town's newspaper, I had no idea what to expect.
I had previously been approached by Steve about writing for the paper as a sophomore, but I did not think my writing was good enough for a daily newspaper. I didn't think I would be a good candidate for the position, so I did not pursue it.
However, I changed my tune when he reached out again via email my senior year about covering a game. This time, I accepted the opportunity from Steve and began working for the local paper. Looking back, I am extremely thankful that I did agree to cover that game because my life would have been different today had I not.
Becoming a sportswriter has helped shape the person that I am today, and there is no doubt about it. I have gone from being a shy individual to someone who enjoys talking to people, even complete strangers. I have learned a lot of valuable lessons through my time as a sportswriter.
My interest in writing about sports started when I was an elementary-aged kid. Not many people know this, but I used to put together my own weekly newspaper for myself called NASCAR Weekly. I would cut out pictures from the previous week's race and type up articles to go along with the pictures. As I got older, I started adding high school sports and UK sports content to my weekly paper that only was read by me and my parents. They are fun to go back and look at to this day.
I also like to go back and read my first few articles from my early years at the Commonwealth Journal, too. Through a lot of practice and reading articles from other sportswriters and news outlets, I hope to think that my writing has improved throughout the years.
There are many people I would like to thank for an incredible journey during my tenure at the Commonwealth Journal. I could go on and on about all people that I need to thank, but I would need an entire book to do that. To save space, I'll keep it short.
First and foremost, I want to thank the good Lord for placing me in this spot. Without Him putting me into this position, I am not sure where I would be today. Looking back on how things have transpired, I think God has had a hand in the whole situation.
I want to thank Steve for giving me this wonderful opportunity. He has been such a great boss and an even better friend since meeting him in the late 2000s. I have learned a lot from him, and our town is so lucky to have him leading our sports department. He really cares about the athletes, coaches, and administrators that he works with throughout the Somerset-Pulaski County area.
Doug Eads, Caleb Lowndes, Heather Boatman, and David Rogers have been contributors that I have had the honor to work with closely during my time at the newspaper. I would need an entire book to write all the good memories that I have had with those people. I would not trade those memories for anything in the world.
I want to thank my wife Lauren for all the sacrifices that she has made so I could enjoy my side gig. We have enjoyed traveling all across Kentucky to watch high school sporting events. She would volunteer to drive home from a late-night football game or basketball game so I could type my story on my phone to make the deadline.
To the readers and supporters of the Commonwealth Journal sports section, thank you. While many papers across the country are shifting to weekly circulation or closing down, our local paper is still reaching its readers five days per week. Without loyalty from the readers, there is no Commonwealth Journal.
I would like to thank the athletes, coaches, administrators, and fans that I have gotten to know at Pulaski County, Somerset, Somerset Christian, and Southwestern. While everyone knows that I am a Warrior at heart, I was always treated like family and felt right at home when covering games and events at other schools.
Speaking of people, my favorite part of the job has been the people that I have met over the years. If I had not become a sports writer, there are many people that I would not have met in my life, and that is sad to think about. I have made so many relationships with athletes, coaches, and fans during my time at the paper, and that is what I am most thankful for.
Now, let's talk about the sports part of the job. I have gotten to witness some amazing sports moments during my tenure as a sports writer. Some things that have stuck out to me are witnessing Pulaski County and Somerset win state championships in football, watching Logan Dykes' game-winning lay-up to punch Southwestern's trip to Rupp Arena, and seeing the Southwestern Lady Warriors competing in the girls' basketball state title game at Rupp Arena.
My favorite moment came in November 2011, when the Southwestern football team defeated Harlan County in overtime to win the program's inaugural regional championship. Why is it my favorite? My brother Christian was a senior on that team, and I will never forget running across the field to celebrate with him and the rest of the Warrior football family when the game was over.
I started my writing career while I was in high school and continued to cover athletic events while attending college at Somerset Community College and Eastern Kentucky University. When I became an elementary teacher in the fall of 2015, my sports writing slowed down, as I only covered Southwestern football and basketball games.
Since becoming a teacher, Steve has allowed to me cover games while working around my busy schedule. I still wanted to be involved, and he was great at keeping me in the sports writing rotation.
I have always enjoyed writing, but especially about sports. As a teacher, I have always encouraged my students to write about something that interests them. I like to write about sports, but one kid may enjoy writing about video games or comic books. I think the connection has helped motivate my students to enjoy writing, which is a wonderful thing.
In conclusion, I will always remember the good times as a sports writer. I have gotten to meet great people, travel all across the Bluegrass State, and watch all kinds of sports. I truly am blessed.
I will still be around high school sporting events, but I won't have my pen in my ear or my clipboard in hand. I am going to sit back and enjoy watching the games as a fan with my wife Lauren and my son Luke.
Thanks for the wonderful memories, Commonwealth Journal.
>>> ad: Check Out TODAY'S BEST Amazon Deals! <<<<
Originally Appeared Here