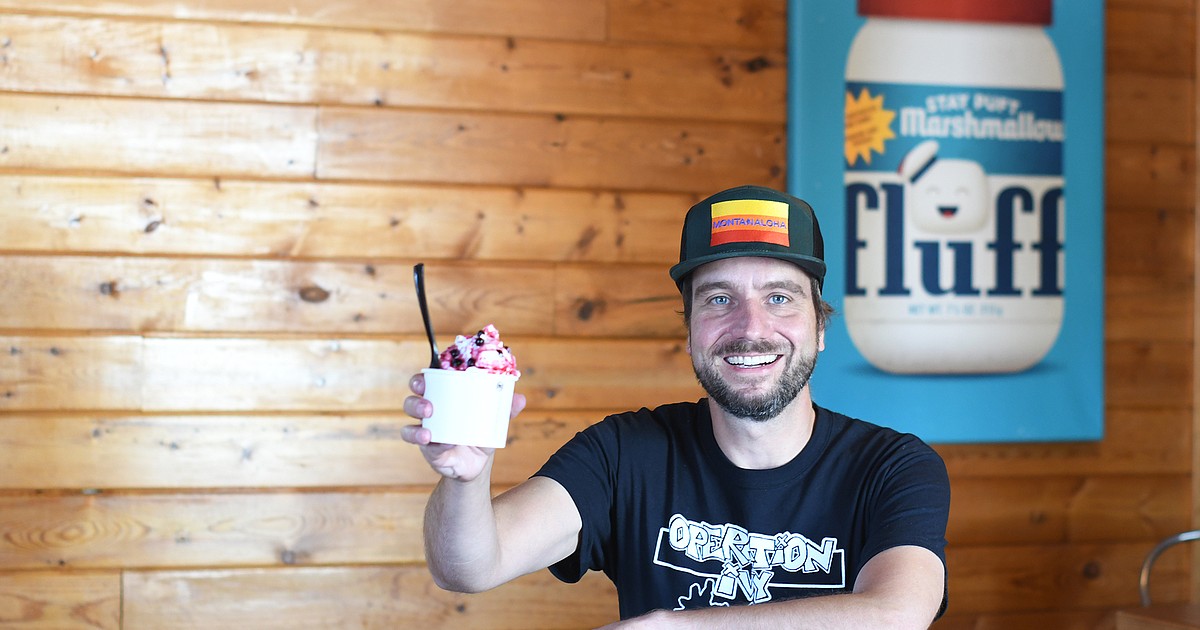 There's nothing scary about Ghostland Grounds, though the new Columbia Falls business is a little unorthodox.
Kevin Rosenjack is the owner of a three-part enterprise on the complex located just west of NAPA Auto Parts on U.S. 2.
The trio of businesses is made up of a longstanding espresso hut, a new ice cream counter and a commercial kitchen. Indoor and outdoor seating is available at the site for customers from any of the three eateries.
L&L Mobile Cuisine, a food truck with an eclectic mix of burgers, sandwiches and Asian fare, is stationed in the adjoining parking lot.
With all of the components on Ghostland Grounds, it would be possible to eat breakfast through dinner and even dessert.
"I'm pretty proud of everything we're doing," Rosenjack said of the many-pronged business.
There's a lot that falls under that umbrella.
At the coffee hut, veteran baristas offer coffee along with breakfast burritos and liege waffles. The European-style waffles are topped with dense sugar pearls, making them sweet enough to eat without syrup. The breakfast burritos and the waffles both come in portable sleeves to cater to drive-thru customers.
"It's total car food," Rosenjack said.
Inside the former home of the Cimarron Cafe, Rosenjack also sells ice cream from Kalispell Kreamery. Ghostland Grounds is one of few retail spots where the local dairy vends its cool treats.
Loyal Kalispell Kreamery followers might be surprised to find something new at Ghostland Grounds. The ice cream there incorporates familiar toppings such as huckleberries, bananas and homemade whipped cream, as well as some not-so-familiar add-ons, such as cereal and prunes.
The menu features milkshakes, frappes and "swirls," which combine eclectic ingredients in the same way Rosenjack has brought together the various pieces of Ghostland Grounds.
There's the "Hard Knock Life" swirl, for example, made of Life cereal, Ovaltine and dark chocolate. Another option is the "Toucan Do-it," which consists of pineapple, Froot Loops, whipped cream and berry syrup.
The ice cream arm of the business opened on July 24, and Rosenjack said it's seen a lot of traffic already.
Being busy isn't a surprise to Rosenjack, who opened Ghostland Grounds because he saw a need for the classic dessert in the small city.
"It seemed Columbia Falls should really have some cool ice cream," he said.
Initially, Rosenjack didn't see himself as the person to take on that task.
His background is in information technology, a field he worked in for 24 years. About two years ago, he bought a commercial kitchen space in Kalispell and rented it to culinary businesses that didn't have their own kitchen space.
The "ghost" in Ghostland refers to the concept of a "ghost kitchen," a prep space that serves eateries that don't maintain their own restaurant space.
Rosenjack's Kalispell location is now home to The Spot, a doughnut shop that opened last year.
Rosenjack said he received interest from other businesses that were hoping to find kitchen space, so he expanded up to Columbia Falls. Before long, he became invested not only financially, but also in the on-the-ground operations.
He said that investment likely will grow as Ghostland Grounds adds more tenants and more menu items.
"I have some ideas, for sure," he said. But for now, three's company for Rosenjack and his small team. "I think we have our hands full," he said.
Ghostland Grounds is located at 700 Ninth St. W. Hours for the espresso hut are 6 a.m. to 5 p.m. on weekdays, 7:30 a.m. to 5 p.m. on Saturday and 7:30 to 3 p.m. on Sunday. Hours for the ice cream counter are 3 to 9 p.m. Tuesday through Friday and 12 to 9 p.m. Saturday and Sunday.
Reporter Bret Anne Serbin may be reached at 406-758-4459 or bserbin@dailyinterlake.com.
>>> ad: Check Out TODAY'S BEST Amazon Deals! <<<<
Originally Appeared Here