click to enlarge
Off-duty Burlington police officers are providing private security for a Queen City condo complex — even as the police union, chief and mayor have repeatedly complained about a staffing crisis within the department.
Members of the Burlington Police Officers' Association report for their eight-hour overnight shifts at the River Watch condos in marked city cruisers, wearing their department-issued uniforms, badges and guns. They make $81 an hour, more than twice an entry-level officer's rate of pay, according to a contract obtained by Seven Days.
The arrangement allows one neighborhood to receive enhanced police service because its residents can pay for it, while people elsewhere in the city say officers have been slow to respond to calls for help. The police union and acting Chief Jon Murad have both blamed the decline in service — and a recent spike in some crimes — on a 2020 city council decision to reduce staffing at the department.
The condo contract began in the fall, around the same time that city officials and downtown business owners were raising the alarm about rising crime, including fatal shootings. The climate was worrisome enough that the city hired off-duty Vermont State Police troopers to patrol the Church Street Marketplace late at night.
Among the residents at the 215-unit complex off Riverside Avenue is City Councilor Zoraya Hightower (P-Ward 1), who was one of the leading proponents of the police cuts. In an interview on Monday, Hightower said she only learned of the arrangement recently and thinks it raises ethical issues.
"Why are we paying officers to patrol private [neighborhoods] when the whole city needs officers?" she asked. "It seems like the Burlington Police Officers' Association is now profiting off of people's feelings of insecurity, which seems very problematic."
click to enlarge
Mayor Miro Weinberger is also concerned with the situation, which he learned about on Monday from Seven Days. Weinberger said it's common for officers to provide security at school sporting events and other large, public gatherings. But he draws a distinction between those and ongoing patrols for a private neighborhood.
He thinks the police union contract does, too. The three-year pact, signed in July, allows officers to work "street or private events" for a special overtime rate, but it's silent on long-term moonlighting gigs. The mayor has asked Murad to ensure that the department doesn't renew the River Watch agreement until he reviews the matter.
"I want to understand how widespread contracting like this has become, and I want to make a definitive decision quickly about whether this is the kind of thing that can continue," Weinberger said. 
"To have the possibility of different communities being able to pay for a different level of police services — that's not the way we want to police," he added.
Murad did not return several requests for comment. Weinberger said the acting chief didn't sign off on the contract — a lieutenant did — and that he was unsure when Murad learned about the arrangement.
River Watch residents first asked for private security last spring after a rash of thefts and break-ins at the development, issues that were largely attributed to guests of one problem tenant, who has since been evicted. Minutes from an emergency condo association board meeting last April describe the residents' fears.
"Owners shared experiences about finding their cars being broken into or attempted break in [sic], encountering persons overdosed in an elevator, acting strangely in parking garages, and a general feeling of not being safe at the Property," the minutes say.
Residents also aired their concerns on Zoom calls with Weinberger and Chittenden County State's Attorney Sarah George and complained that officers weren't showing up when called.
Their experience isn't unique. Staffing woes have plagued the Queen City department since the June 2020 vote to reduce the size of the police force through attrition. Officers left faster than expected, plunging the department into what Murad and Weinberger have called a staffing crisis.
Councilors have voted to reverse the cuts, and the department is rebuilding its ranks. Officers' salaries now start at $71,000 a year, and new recruits receive a $15,000 bonus. Meanwhile, Murad has said officers will always respond to the most serious calls but may be delayed — or not even respond — when less serious situations arise. Dispatchers often tell callers to make reports online.
River Watch resident Sam Arnold was alarmed by a dispatcher's response when she dialed 911 last July after she began filming a man she suspected was casing her vehicle. The man charged at Arnold, who ran into the elevator just as the door closed. Trapped inside with her niece, Arnold could hear the man screaming and threatening her with a weapon. 
The dispatcher told Arnold she wouldn't send an officer unless someone was hurt or bleeding. Seven Days confirmed that the call occurred but could not verify the dispatcher's response.
"Should I go buy a gun? Would, in that case, they show up?" Arnold said. "You actually have to shed some blood to get somebody's attention." 
The following month, a man wielding a knife chased a maintenance worker who had told him he couldn't park in a certain area. Residents told Seven Days that police issued the man a no-trespass order, but he returned a few days later. When a resident confronted him about trespassing, the man threatened to climb up to her balcony and shoot her.
The resident, who asked not to be named due to concerns for her safety, said police did respond but only removed the man from the property after he became aggressive.
The condo association initially sought help from multiple private security companies, according to board member Chandar Hall. The board also contacted Colchester and South Burlington police, state troopers, and the Chittenden County Sheriff's Office, but all declined because they didn't have the capacity to take on the work, she said.
Burlington, apparently, did. 
The contract calls for two officers to be on duty between 11 p.m. and 7 a.m., seven days a week. The shifts are voluntary, but the agreement says "all efforts will be made to fill the position." 
It's unclear how often officers take the special patrols. Officer Joe Congdon, the police union's spokesperson, estimated that about half the shifts have been filled; he said he's signed up several times because of the good pay.
Congdon likened the arrangement to other off-duty assignments, such as working the S.D. Ireland Saint Patrick's Day parade. He referred questions about other private security details to the union's "business agent," Officer Sergio Caldieri, who did not respond to an interview request. 
Brian Stark, the condo board's treasurer, wouldn't share how much the association has paid for the union's services, saying the deal is between two private entities. Stark said he sees no issue with the contract and noted that River Watch has hired an off-duty officer for Halloween night for several years.
"Characterizing it as officers patrolling a single neighborhood when the entire city is seeing a police staffing shortage is a little misleading," Stark said in a follow-up email. "These are officers who have worked their full work week of scheduled shifts and are voluntarily picking up some extra work on the side."
click to enlarge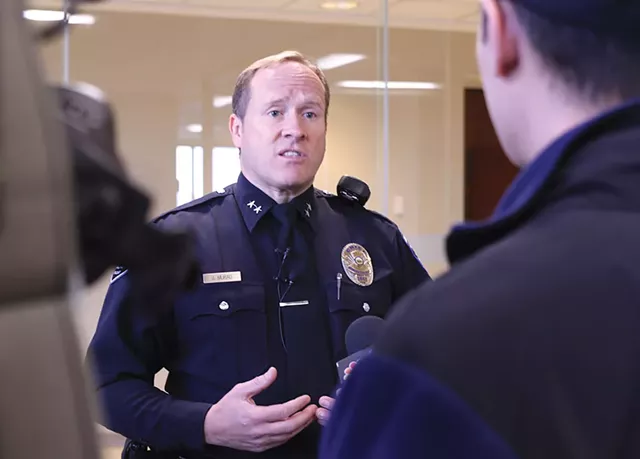 But City Councilor Joe Magee (P-Ward 3), who chairs the council's Public Safety Committee, called on the department to stop the practice until the staffing emergency is over. Like the mayor, Magee said there's a difference between one-off patrols and a regular neighborhood watch by off-duty cops.
"To have an ongoing contract, especially when the city is paying additional money to contract with the Vermont State Police for additional resources because we're told we don't have enough, that concerns me very deeply," he said.
Weinberger said the city would rather pay overtime to Burlington officers and that the police union was offered — but declined — the downtown weekend shifts. He said he plans to meet with union members and city attorneys about the River Watch contract in the coming days to "get to the bottom of this quickly."
Burlington Police Commission chair Stephanie Seguino agrees that the issue needs more study.
"It is especially concerning since we have heard repeatedly over the last two years from acting Chief Murad about the decline in the number of officers, leading to delays in police responses to community requests for assistance," she said in a statement. "How private contracts such as these impinge on the availability of officers to work at their primary job at BPD is an important question that should be looked into."
Charles Nemeth, director of the Center for Criminal Justice, Law and Ethics at Franciscan University of Steubenville, Ohio, said private police forces have become more desirable since the "defund the police" movement. Police unions likely see these side jobs as a way to boost morale amid "all this anti-police rhetoric," Nemeth said.
Moonlighting by police was commonplace well before the defund movement. A study published in the University of Illinois Law Review in 2017 found that 80 percent of U.S. police agencies that took the survey allowed the practice, and many reported benefits from doing so. But the same study also said officers who regularly work second jobs can become fatigued, which can affect their judgment and behavior, among other issues.
Other cities have found the practice to be problematic, or at least worthy of scrutiny. A September 2022 investigation by ProPublica found that the proliferation of private police companies has created disparities between neighborhoods that can afford public safety services and those that can't. 
Chicago has noticed the same dynamic, and in 2021, the city's mayor called for better monitoring of these lucrative side gigs. An earlier U.S. Department of Justice report found that a significant number of alleged police misconduct cases in the Windy City occurred while officers were on second jobs, the news website Axios reported.
River Watch resident Jake Schumann, a Progressive running for the East District city council seat this March, said he's concerned that the city can't hold Burlington cops accountable while they're on condo duty. The contract says the city isn't liable for "bodily injury, property damage, or wrongful death that may arise from the actions of officers" on the job.
Schumann warned against hiring Burlington police officers during the Zoom meeting with George, the prosecutor, in September.
Burlington police are "failing to serve our community's needs," Schumann said then, according to a video recording of the meeting. "By giving them this supplemental work opportunity, we're rewarding them for failing to do their jobs adequately."
>>> ad: Check Out TODAY'S BEST Amazon Deals! <<<<
Originally Appeared Here