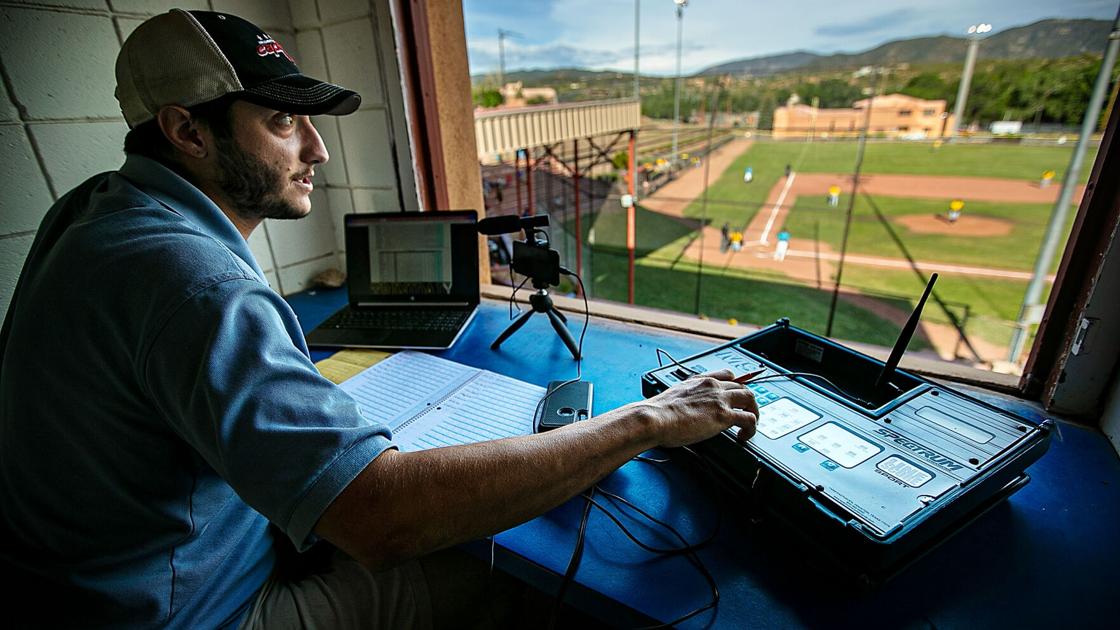 Aaron Rivera has never considered himself much of a people person, preferring to observe from afar rather than get up close and personal.
It's an interesting bit of self-diagnosis, considering the 28-year-old's chosen profession.
A full-time play-by-play announcer with Albuquerque-based ProView Networks, he spends most of his time talking about what's unfolding in front of him with the poise and confidence of someone who doesn't have a shred of introversion in him. This summer, he has taken up a side gig at Fort Marcy Ballpark by calling home games for the Santa Fe Fuego.
All Fuego games are streamed online through the team's website. It does require a subscription but, as one parent of a Fuego player said recently, it's more than worth it.
"The guy doing the game is actually really good," said Edward Peterson, whose son, Declan, starts at second base for Santa Fe. "A lot of games like this, they just stick a camera up there and don't have any sound. This guy calls the game as good as anyone."
Rivera will be at the mic for Sunday afternoon's Pecos League All-Star Game at Fort Marcy. He said he plans to have a revolving door of guests that will include several players and, hopefully, the always entertaining president of the Pecos League, Andrew Dunn.
"It's interesting, because I've never really liked getting out there and talking with people, but I do like the broadcast element of this," Rivera said. "After I got out of college, I was trying to figure out what I wanted to do next and this just seemed like an interesting way to go."
Hired by ProView in 2016 after studying communications and philosophy at the University of New Mexico, Rivera has run the gamut the network provides by calling the action for practically every sport on the high school sports calendar. That included a number of baseball and softball games a couple of weeks ago during the respective state tournaments, not to mention countless basketball, football and soccer events over the years.
Rivera cut his teeth in broadcasting calling rugby matches in college. He played the sport in high school and again at UNM, but grabbing a microphone and describing what he saw proved to be a natural transition for him. His delivery is smooth and even, intermixed with details about unseen features of the game and not prone to exaggerating the chaotic highs and lows sports tend to offer.
But, still, Fuego games? It's a big commitment for someone who works full time an hour down the road and makes his home in Corrales.
"They say it's a long drive but, hey, I own a Prius," Rivera said.
Including Wednesday's game against visiting Salina, Rivera has been at the mic for all but one home game this season. The only exception was a mid-week doubleheader opener last week.
Baseball, he said, is the ideal sport to spread his wings and prove he can handle the grind of calling the same team day after day. From the on-field communication between the players, the strategy of the game and the backstory of those playing it, he said baseball is the perfect conduit for someone in his line of work.
"I've done football and soccer, and it's constant action, non-stop stuff like in basketball," Rivera said. "Baseball's not as slow as it seems, but it's got the pace that lets you get creative, you know?"
Rivera doesn't make much in terms of a paycheck. Like most of the players, he's in it for the experience, the fun — and the hope that it'll pad the résumé just enough to get someone's attention.
"As a baseball fan, this just feels like real baseball, like real guys going out doing a job and not just some schlubs walking around," he said. "It's professional baseball. I mean, I get that it's the Pecos League and they're basically playing for nothing, but seeing a bunch of guys trying to improve themselves to get somewhere better — isn't that what we're all doing?"
NOTES
Sunday's Pecos League All-Star Game begins at 2 p.m. It falls in the middle of a critical 10-game homestand for the Fuego, who entered Wednesday's game against Salina riding a seven-game winning streak. Santa Fe hosts first-place Tucson in a three-game set beginning Thursday night at the Fort. … Tickets for the All-Star Game, which features six Fuego players on the Mountain South roster, are going for $7.50. … Every game on the current homestand starts at 6 p.m. … The Fuego had road games against Colorado Springs on Monday and Tuesday wiped out due to weather.
Upcoming home games Online: santafefuego.com All games at Fort Marcy Ballpark 6 p.m. Thursday, vs. Tucson Saguaros 6 p.m. Friday, vs. Tucson Saguaros 6 p.m. Saturday, vs. Tucson Saguaros 2 p.m. Sunday, Pecos League All-Star Game 6 p.m. Monday, vs. Alpine Cowboys 6 p.m. Tuesday, vs. Alpine Cowboys 6 p.m. Wednesday, vs. Colorado Springs Snow Sox For full schedule, see Page B-2
>>> ad: Check Out TODAY'S BEST Amazon Deals! <<<<
Originally Appeared Here