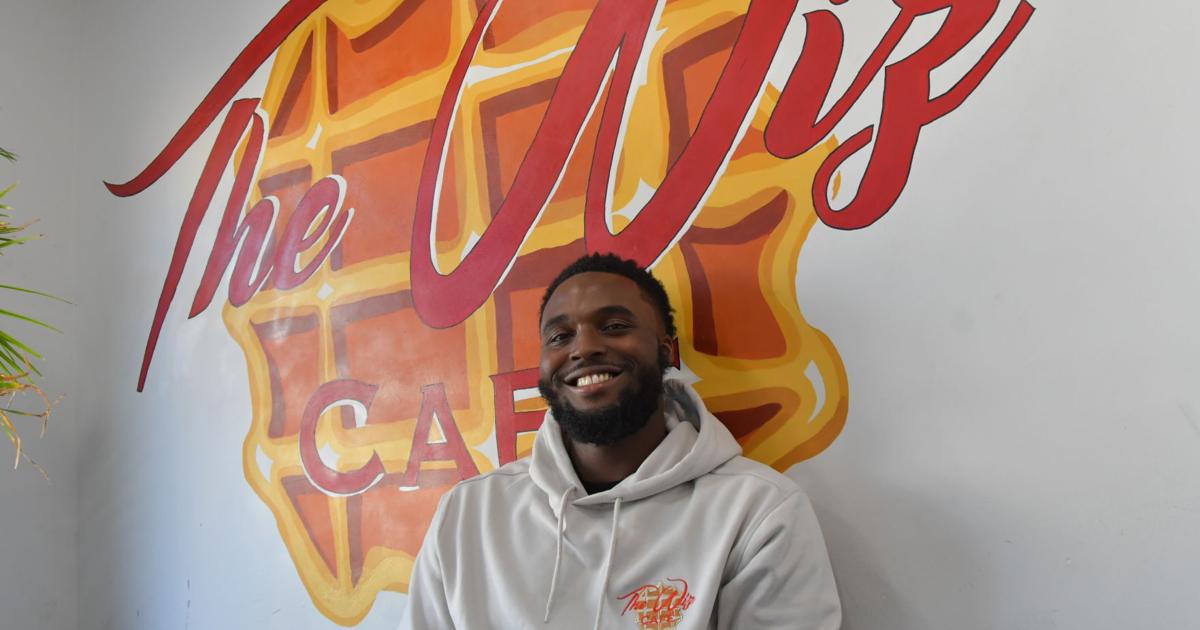 When Thomas Montgomery Jr. opened the North Philadelphia breakfast spot The Wiz Café, he took a major leap of faith based on his lifelong entrepreneurial spirit.
The Wiz Café is a breakfast-focused restaurant that Montgomery opened in July 2021. Per the café's website, the Wiz is focused on filling the void of "the lack of black business and representation in our communities" by "mak(ing) your belly smile and taste buds dance with the best brunch in Philly."
Some of the menu standouts are named similar to things related to the musical and movie "The Wiz." Items include a salmon dish called the "No Place Like Home," "Ease on Down," "Be A Lion," "No Bad News" and the "Wizard Fruity Pebble French Toast."
According to Montgomery, his entrepreneurial spirit really came into focus when he attended the Indiana University of Pennsylvania where he found that he could make money to get him through school by advancing his business ideas.
"I went there for four years (and) got (through) there … on parties and selling T-shirts and things of that nature. I think that's kind of where my real entrepreneurial spirit came from. Just more so, I mean, well I did things as a kid as well, always kind of selling stuff. But in college … it's kinda like starve or figure it out. So we started throwing parties and things of that nature. Make a few bucks afterwards."
After Montgomery graduated from IUP with a degree in business and operations management, he went to work doing sales for a company in Cleveland, Ohio, before his path led him back to Philadelphia where he would find his way into the real estate business. He began flipping properties, which is how he eventually came into possession of the building that would later become The Wiz Café.
Montgomery said the location currently occupied by the Wiz was previously another restaurant that had closed, but after he picked up the building with the intention of flipping it, prior customers would still be stopping by in the hopes of grabbing food. It was this sustained level of interest from community members as well as Montgomery's own background that led him to the idea of starting a breakfast spot.
"I grew up on 22nd Street. My uncle owned (a) shop and that was our family business, and I made a lot of money there. I guess (that's) really where the entrepreneur … seed was planted. Just growing up on 22nd Street and (seeing) a bunch of businesses kind of come and go. The ones that never really went anywhere were the breakfast stores. … (So) I'm like, I wanna own one of these."
Once Montgomery made the decision to open a breakfast restaurant in his North Philadelphia property, he said that things moved quickly. In order to get eyes on his new venture, he decided to cash in some of the cache he had gathered during his time in the Philadelphia real estate market.
"Prior to getting into the food industry, I was doing a lot of real estate stuff. So I'm kind of known in that industry in Philadelphia a little bit far as people in my generation. So just using my 10,000 followers on Instagram now, instead of promoting my real estate courses or my real estate events, I just started promoting, 'Hey, I have food and I have this restaurant come out and support me.' So early on it was a lot of great support," Montgomery said.
After a quick groundswell of support following the opening of the restaurant, a brief shutdown a few weeks later would give Montgomery the time to really focus on putting the finishing touches on the Wiz.
"It was kind of … a blessing (in disguise) because I was able to gradually grow, finding the right cooks, the right staff, the right menu, the right recipe, the right look, just the right marketing," he said. "So it's kind of been growing gradually, but it's been pretty good as far as getting off the ground."
Montgomery said that since the café opened, he appreciates the way that community members from multiple generations have embraced the atmosphere that the café has cultivated.
"I think the older generation … they appreciate the business (and) just (seeing) a younger person like myself, just trying to actually start a business and in a neighborhood where I didn't grow up in, but not too far away in Germantown. So they've been really receptive to it. Then (there's) my generation. So I do a little bit of everything. So my generation, people that follow me on Instagram, they'll come in for food, they'll ask me some real estate questions, some credit questions. So it's just a cool little vibe."
Montgomery said now that things have settled down after the initial shock of the opening, he can really focus on making the Wiz the best version of itself.
"So it's growth right now but at a steady pace," he said. "So my fear is to pack this place and have a line out the door and we're struggling, trying to push the food out and the food comes out nasty or a 'four out of five' versus letting it grow steady. My staff is getting better and we can push it out and it's like, 'hey, I waited 30 minutes but this was the best food I had in a long time.' So (it's) just trying to perfect our craft. I don't have a culinary background. I'm a licensed real estate agent and a general contractor. I went to school for business management. I'm just trying to keep an open mind to all the culinary things of the world."
For Montgomery, who has two children, the goal is to always to be humble and to build something with the Wiz that can ultimately be fruitful not only for himself but for the next generation of his family.
"I guess my favorite part, I would have to honestly say the struggle of just trying to actually build the foundation and grow the business. Just looking at, I guess when people would think of success, they think of it as fast paced. … Just being honestly young and Black, we like fast stuff: we like fast cars, fast music, fast money. So just kind of slowing everything down and building it the right way. So just learning that process and making sure that I cross all my t's and dot all my i's to be able to just take everything I learned from here and just put it in different places. But I got two kids too, so I need to make sure that the W is solid so that way they can come in, learn some little business and go off and do whatever they can."
>>> ad: Check Out TODAY'S BEST Amazon Deals! <<<<
Originally Appeared Here