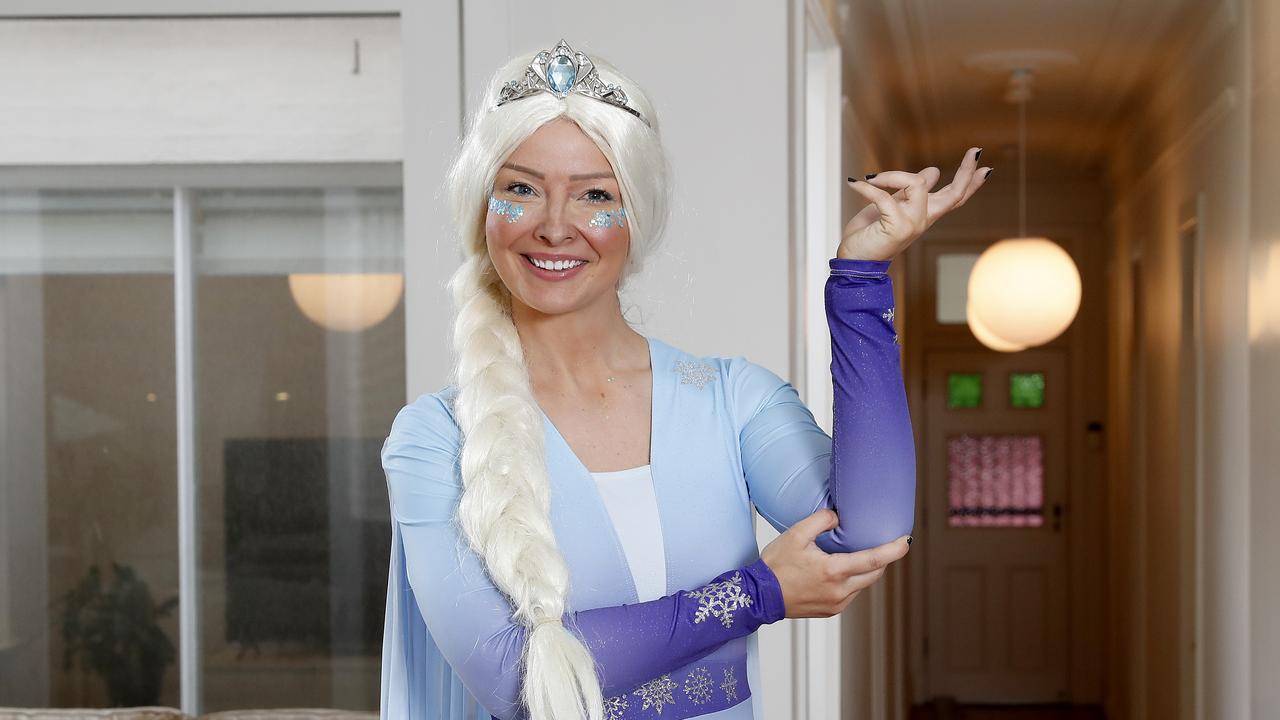 Parents are going to extraordinary lengths to make sure their child's birthday party is extra special this year.
Parents increasingly are calling in the professionals when it comes to entertaining their
children, hiring in face painters, magicians and character actors to ensure birthday parties go off with a bang.
While Covid-19 has played a part in the increase in demand for in-home entertainment – with mums and dads making up for a lack of a birthday party held during lockdowns last year by hosting a more special shindig this year, or shying away from parties in public places – they also are taking the stress out of the day for themselves.
Supa Dupa Kids Parties entertainer Kath Solly has worked as a children's entertainer for 10 years, dressing up as characters from the Frozen movie and other superheroes as well as singing and dancing.
She survived on her self-taught face painting and balloon tricks for the first six years but decided to formalise her skills by attending clown training in the US in 2017 when the job became a serious side gig.
"In 2020, our in-person party packages decreased due to Covid and instead we saw an increase in people booking our personalised video messages from their favourite characters," she says.
"Outside of Covid, there has definitely been an increase in entertainer bookings.
"I think it comes down to parents wanting to actually enjoy the party or event with their kids.
"If they don't have a party host, it's up to them to keep the kids happy, which can be quite stressful for a parent to manage.
"One of my favourite things is seeing how happy a parent is, seeing how happy their child is when they meet their favourite princes – being part of that magical moment is a big reason to have an entertainer at their event."
Online marketplace Airtasker reports the demand for children's entertainers has doubled since 2019, while so far in 2021 there has been a 140 per cent increase than in the same period last year.
Chief executive Tim Fung says the increase in demand has been "astounding".
"We started seeing fun and quirky kids party tasks increase mid-2020 and really ramp up towards Christmas, as Australia started to open up again and parents wanted to go the extra mile for their kids after a tough year – from looking for a Dungeons and Dragons master, to singagrams," he says.
"At the same time, many of us had also seen our favourite influencers or celebrities celebrating their kids birthdays at home with Anna and Elsa, Baby Shark and even mermaids so there was a lot of inspiration out there for throwing a really memorable party at home."
He says the safety of its customers is its highest priority so it prompts customers to review if their service provider has a Working with Children Check.
"Customers in VIC, QLD, WA, NT, SA and TAS can also look out for the Working with Children Badge on the Taskers' profile, which demonstrates that they have a check relevant to their state," he says.
IBISWorld reports a wider trend in the increase in birthday parties being held at home, while parents also are spending more money on children's parties overall.
Its April 2021 industry report for the party supply rental industry in Australia, which includes everything from furniture and crockery rental to catering and balloons, forecasts anticipated growth of 9.6 per cent this financial year, as the negative effects of the COVID-19 pandemic dissipate and restrictions on gatherings are removed.
Report author Alen Allday states in the report that birthdays and anniversary parties make up a third of the market.
"This market is projected to have increased as a share of industry revenue over the past five years, due to increases in birthday party hosting and the amount of money people are prepared to spend on birthday parties, and despite reduced demand in 2019-20 in response to the COVID-19 pandemic," Allday says in the report.
"For birthdays, parents are increasingly spending more on lavish parties for their children, incorporating marquee and furniture rental and other industry products."
One parent, Phoebe, hired a face painter for her son's first birthday party because there was a variety in age of children up to 12 years old attending.
She turned to Airtasker as she wanted to choose someone specific who met their needs, as well as had good feedback and reviews from other parents.
"Another benefit is you are creating the job and task so you're able to list your specific requirements: what you expect, how you'd like it completed and any special requirements like WWC certificates and police checks," she says.
She posted her task on the site and waited for responses from entertainers, rather than contacting entertainers and sourcing quotes, which also made it an easier task.
"My advice would be wait to see what response you get and check their ratings, feedback and any work photos," she says.
WHAT PARENTS SHOULD CONSIDER WHEN HIRING A CHILDREN'S ENTERTAINER
* WORKING WITH CHILDREN CHECK OR BLUE CARD
This is required for people who work with children, even if it is not a full-time job or their main career.
It expires every few years and workers must renew their check to remain compliant.
It is different to a police check and a different check applies in each state.
Parents can verify if someone holds a valid screening via:
SERVICE NSW
JUSTICE VIC
QLD GOVERNMENT
SA GOVERNMENT
* WHAT THEY DO
Not all entertainers will be able to do everything from making balloon animals to singing in tune, while they may specialise in certain activities.
Some entertainers may organise and host the whole party, while others will just be on hand to perform their tasks when required.
So be specific when obtaining quotes or requesting services to ensure you're not disappointed on the day.
Don't be afraid to ask for photographs of the entertainer in costume or samples of their work. Some entertainers may also be able to provide videos.
* REVIEWS FROM CUSTOMERS
Don't just look at the star rating or the number of reviews, but read the comments left by previous customers to determine if they will be the right fit for you.
Things to consider may include if the entertainer arrived on time, how many children they entertained at the party, and if they worked on a task or time basis.
>>> ad: Check Out TODAY'S BEST Amazon Deals! <<<<
Originally Appeared Here