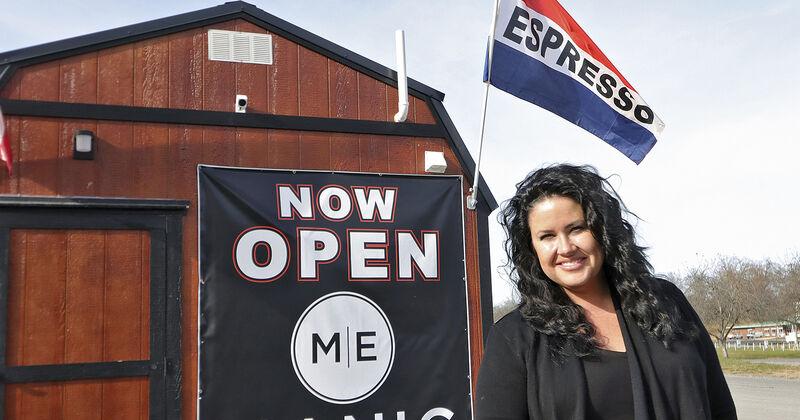 It's not unusual to find Rachel Warner in the drive-through of Lewisburg's Manic Espresso.
"I don't know if it's just because I'm from Seattle or what, but I love coffee," she said with a laugh.
It was while enjoying a piping hot cup of caffeine in her hometown that Warner first had the idea to open a coffee shop.
"It was just kind of a dream business," she said.
It took time – as well as a career overhaul and a cross-country move – but that dream became reality when "Manic," as Warner refers to it, opened its drive-through window to its first customers in August.
Though Manic Espresso is Warner's dream business, it is not her only venture.
"I didn't know what I wanted to do as far as types of businesses when I was little, but I knew that's what I loved," the 41-year-old recalled.
Becoming a business owner didn't happen right away, however, as she first spent several years working as a project manager, in both Seattle and Wyoming, overseeing the construction of custom homes.
"But everything fell apart when coal and oil went down in Wyoming," she said. "I found myself unemployed."
That's when she took a step away and journeyed on what she referred to as a "six-month adventure" to Lewisburg.
The move wasn't intended to be permanent, Warner said, but she quickly found success in an unexpected venture.
"I started teaching piano out of my home and it kind of blew up," she said.
The popularity and demand for lessons prompted Warner to open Warner Music School in downtown Lewisburg in April 2017.
"We have kids who come from (as far as) a couple hours away for lessons," she said, explaining instructors offer both private and group lessons in piano, guitar, violin, fiddle, bass drums, ukulele, accordion and voice. "(We teach) almost anything you can imagine."
Based on the success of the school, Warner said she felt inspired to establish a 501(c)3 designed to help provide music lessons to underprivileged youth.
"The goal is to come alongside local schools and help with their programs," Warner said of the Greater Greenbrier Music Education and Appreciation Foundation, which was established in 2019.
Though she said the school is busy, in recent years she has taken a step back allowing her employees to take the lead, while she handles the business end of things.
The extra time, she said, is what allowed her to take on a new, unexpected challenge in February 2020, when she opened Soleil Glamour Bar in Lewisburg.
"It wasn't something that was ever on my radar," she said of the tanning business. "But I had mentioned to a friend of mine that I wished we had a nice tanning place. That's what got the wheels turning."
Warner said she briefly considered purchasing a local tanning business that had recently come up for sale, but determined starting from scratch was the best way to go.
"The equipment was pretty dated and the building wasn't what I wanted so I decided to invest a little more and do everything my own way," she said.
In addition to spray tanning services, Soleil offers a red light therapy bed, which Warner said helps with chronic pain and other conditions.
"It's a really cool thing," she said.
Warner said the business, which had only been open a month when early Covid-19 restrictions forced it to shut down for nearly two months, has also become successful.
"The community really rallied around us and everything has turned out fine," she said.
● ● ●
Though Warner had achieved her dream of becoming a business owner twice over with the school and tanning salon, she said the end game was always coffee.
"The coffee shop was something I wanted to do since I first moved here," she said, explaining she initially shied away from it because of the startup cost.
By the summer of 2021, however, she said she was ready to jump in.
Manic Espresso, located just inside the free parking area on the West Virginia State Fairgrounds, served its first orders the week of the fair.
It was walkup service only those first few days due to fair parking. Business was slow initially, but when the fair closed and the drive-through opened, Warner said the customers turned out.
"We've been completely blown away at the community response and support," she said. "I've never seen anything like it. The financial goal we hoped to hit one day, by the third day we had already hit that."
The business, Warner said, offers a wide variety of hot and cold espresso drinks, coffee, frappuccinos, real fruit smoothies, all-natural energy drinks, Italian sodas and hot chocolate.
In addition to drinks, customers can also purchase sandwiches, chips, breakfast croissants, whoopee pies, pepperoni rolls and other food catered by A Taste of Eggcellence in Monroe County.
Warner said she's thrilled by the response, and also excited to enjoy the coffee she orders in from Seattle.
"It's completely self-serving," she said of the business. "Every morning I don't even have to get dressed. I just go get my coffee."
Warner attributes a large part of her business success to the managers who take care of the daily operations.
"I mostly work from home now," she said. "If there's an emergency I'll fill in, but I more manage my managers at this point. I got super lucky with all of them."
The single mother of three said it's that free time that has allowed her to begin work on opening a Manic Espresso location in Rainelle, with plans for additional spots.
"I've got a couple towns I want to go to in the future," she said, adding any future businesses she opens will be coffee. "I've got plans for growing things."
She said she's excited and also proud to have achieved the goals she set as a child.
"I definitely have hit hard times in the past and doubted whether it would come together for sure," she said. "But I feel so lucky to be at my age and a single mom with three kids and to have everything come together the way it has.
"I feel like the luckiest person in the world."
• • •
Manic Espresso is at 898 Maplewood Drive in Fairlea, Soleil Glamour Bar is at 9629 Seneca Trail North in Lewisburg and Warner Music School is at 174 N. Lafayette St. in Lewisburg.
— Email: mjames@register-herald.com
>>> ad: Check Out TODAY'S BEST Amazon Deals! <<<<
Originally Appeared Here