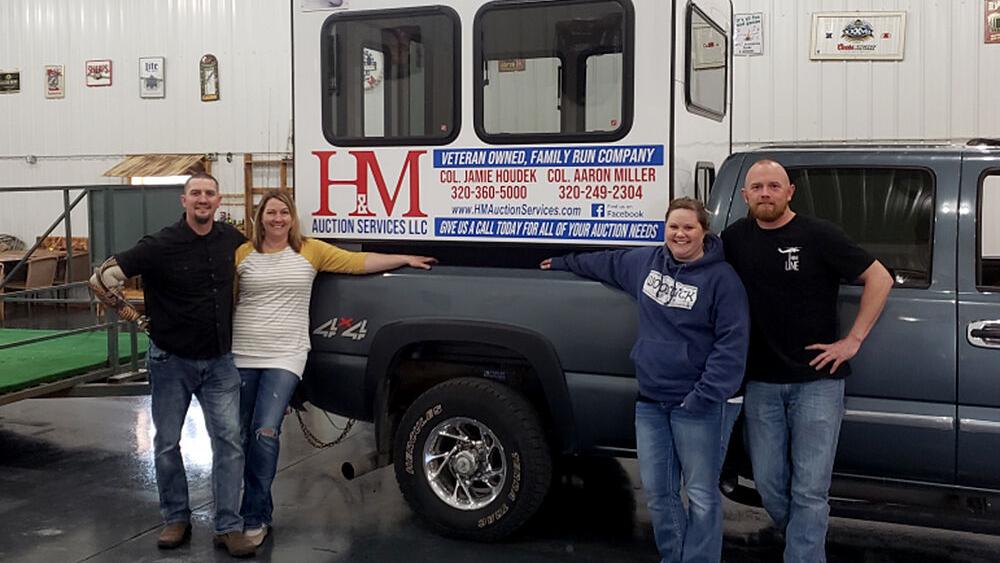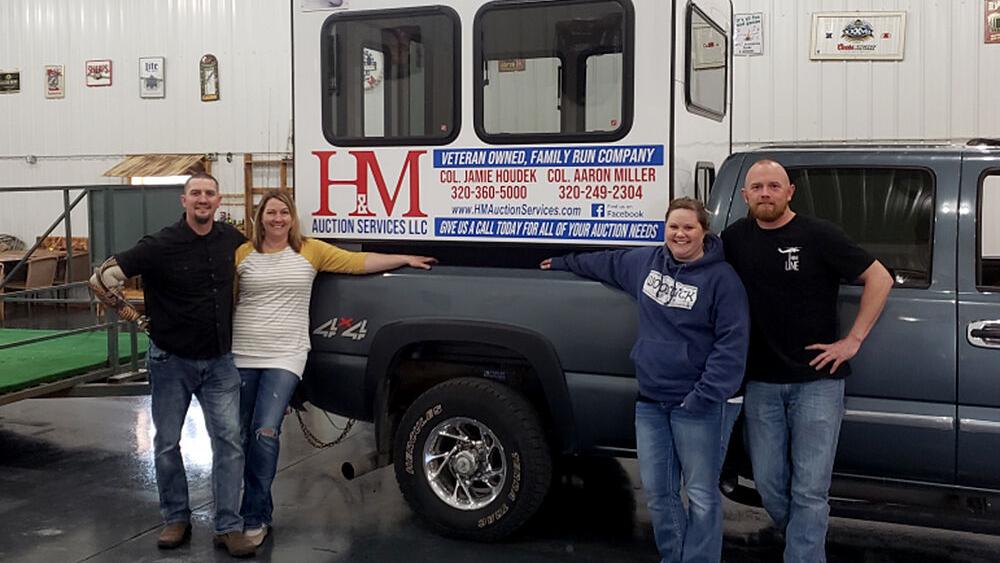 An auction puts "u" in the "action."
Jamie Houdek and Aaron Miller, who own H&M Auction Services, LLC, along with their wives, Lisa Houdek and Nancy Miller, take that to heart. They pride themselves on offering a "one-stop-shop" for all aspects of an auction. They do inventory, setup, provide equipment, clerking and even take care of advertising and, if needed, port-a-potty rentals and lunch.
They're also well-versed in all auction settings, from estate sales to charity benefits to livestock auctions, farm equipment sales and gun auctions. Jamie and Aaron serve as the company's auctioneers, while Lisa and Nancy take care of clerking and a great deal of behind-the-scenes work.
Most of all, the owners of H&M want customers to remember they're family- and veteran-owned — Jamie and Aaron were members of the Minnesota Army National Guard and served overseas — and, above all else, they hang their hats on honesty and trust.
"There's a lot of auctioneers out there that say 'We're trustworthy,' and stuff like that," Aaron said. "Well, there's some that aren't. That's how we sleep at night. We know at the end of the day that our customers are satisfied. The sellers are the ones that really count; we work for the sellers. We don't work for the buyers. We like the buyers, because that's what gets us the sale, but we work for the sellers. When they're happy, we're happy."
During the initial inventory phase, they will be honest with customers in terms of what will sell and what will not. Aaron said they'll be forthright when customers want to sell something such as a box of Encyclopedias, for example, that just simply won't sell anymore.
"All of our sellers have been very open to that, which is nice about people," he said. "It's nice that they're accepting of it, where they get it. With us being more honest with them, they're actually happier with us. It's nice that way."
Jamie said it's all part of a long-term business strategy. Establishing trust with everyone involved is important because, sometimes, today's buyers could be tomorrow's sellers.
It's a model Jamie learned growing up. A second generation auctioneer, growing up Jamie cut his teeth in the industry working for his father, Joe Houdek, at Houdek Auction Services.
After a brief hiatus, Jamie went back to work with his dad and graduated from Worldwide College of Auctioneering in Mason City, Iowa, in 2014.
One weekend in 2015, Jamie and Joe needed help at an auction.
"Aaron and I worked together at Camp Ripley — we're both veterans, knew each other for years," Jamie said. "So I said, 'Hey, you wanna help out being a ring person?' He started helping us."
Aaron got his first true taste of auctioneering a short time later, and in February 2018, he also graduated from Worldwide College of Auctioneering. Less than a year later, in January 2019, Jamie's parents were ready to retire and the Houdek and Miller families bought the business.
They made the business their own with a new name, new logo and new branding as H&M Auction Services, LLC.
Since then, there have been several aspects of auctioneering that have made it both successful and enjoyable.
"I really like the benefits," Aaron said. "… You meet a lot of people, it's fast. Also, we really like selling guns, too. That's another one that, it's quick, people know what they want. Everybody's involved. That's where it's really nice. When 100% of the people are involved, that makes it fun for me."
Jamie said, for him, it's all of that and more. The atmosphere is one aspect he said he really enjoys, along with hearing people's stories and histories as they're preparing for an auction. He also likes being able to help people when they're in a bid.
It's a field in which there is never a shortage of surprises, either. Jamie said every auction he's ever been a part of has brought something unexpected, whether it be the price of an item or who is bidding on what.
"Sometimes it can be competitive, too," Jamie said. "Whether it's a fundraiser or an estate sale, it's like, 'I'm gonna get it. I'm not giving up.'"
Every so often, something unique even ends up on the auction block. Aaron and Jamie said the strangest things they've ever taken bids on include a "complete set" of antique adult toys and a copper pot that may or may not have been a moonshine still. Both of those ended up selling for a surprisingly high amount.
It keeps things interesting in what is still side gig for Jamie and Aaron. They both work full-time at Camp Ripley — Jamie in operations at the airfield and Aaron as a mechanic. Typically, they do one auction every month or so during the spring, summer and fall along with around five charity benefits or fundraisers during the winter off-season.
The verdict is still out on whether or not auctioneering will ever become a full-time enterprise for them. Though they have no shortage of experience, they're still a relatively new company — especially when one factors in the lost opportunities in 2020 due to COVID-19. So, for now, they're going to just enjoy what they're doing and see where it takes them.
"Maybe down the road if it becomes full-time employment for one of us, all four of us, maybe more, who knows?" Jamie said. "We're just kind of playing it by ear and taking it as it comes."
As such, Jamie and Aaron are available for auctioneering pretty much anywhere in Central Minnesota, while Lisa and Nancy will keep everything running as it should behind the scenes.
"We're on the microphones on the day of, but…" Jamie said.
"… they're honestly the ones that have the stress," Aaron finished, referring to their wives. "We could sell all day long. They're the ones that, (make sure) all the numbers are right."
"They are the hub," Jamie added. "We can't spin without that hub."