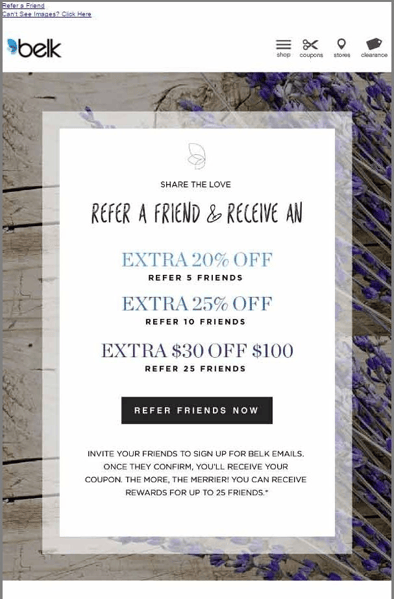 Referral marketing is an amazingly effective tool when employed correctly.
As Mark Zuckerberg said: "People influence people. Nothing influences people more than a recommendation from a trusted friend. A trusted referral influences people more than the best broadcast message. A trusted referral is the Holy Grail of advertising."
So what does that mean for you? Well, referral marketing offers a win-win situation for consumers and businesses alike. The more customers referrers bring, the less marketers have to spend on advertising.
Referrers are your number one sales tool, so use them to open the sales doors for you. But how do you transform your referrers into a customer acquisition team that brings repeat business for your brand?
The first thing you can do is stop waiting until customers purchase from you to bring up a referral request. Instead, make a pass. Ask your customers for a referral while suggesting or focusing on their needs, whether it's through direct mail, in person, or online.
Emails work by providing a direct relationship with your friends, family members, and any person with whom you're connected as long as you don't make a faux pas with the information or marketing strategy.
Well, referral emails or messages also work in the same way: relying on trusted connections. Plus other factors like conversion worthiness, conditions attached for a referral, and the benefits the advocate and final consumers get.
The benefits businesses get by promoting a referral marketing program include, but are not limited to: more or repeat customers, increased sales, brand loyalty and brand awareness, revenue growth, stronger customer relationships, improved customer engagement, and lastly, business insights and metrics surrounding brand interactions on social media – which can be found through social media monitoring software.
TIP: In order to make your referral program effective, it's crucial you monitor your brand interactions and metrics through social media monitoring software. Find the right solution for your brand on G2.
6 ways to rock your referral program to bring you more business
The following six tips can help you take your referral program to the next level.
1. Allow the referrer to refer many people
The main reason for referral marketing is to get more customers. The more customers that come to your business, the better your brand awareness and bottom line will look. But getting customers is easier said than done if you've been paying attention at all.
So how can you promote and attract more customers to your service without encountering extra costs? One way of doing so is sending your cold email as a one-time blast. However, you risk being creepy, and most emails from one-time blasts end in the spam, lowering your email deliverability.
To get into several of your prospects' inboxes, use referral marketing emails such as this example from Belk. The department store gives the referrer the power to send their emails as a blast to multiple friends within their network.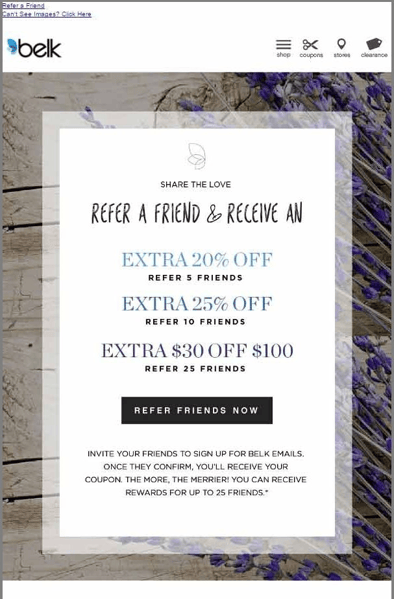 This gives your brand the ability to reach more customers as your emails will appear sent one after another by using the power of your referrers. This strategy works great if you want to onboard more customers or create awareness about your brand.
Crafting your emails to use the influence of your existing customer base to spread your message will dramatically increase your reach and help you scale faster to build better relationships and boost profits.
2. Don't include attachments – people think they're spam
One reason most cold sales emails end in the spam folder is that marketers include attachments or PDFs. You should avoid this practice as it increases the risk of your emails being flagged as spam. And once they're in the spam folder, the intended recipient will never see your attempt to reach them.
To avoid your referral or cold emails making their way into spam, customize your user experience by avoiding adding attachments or PDFs.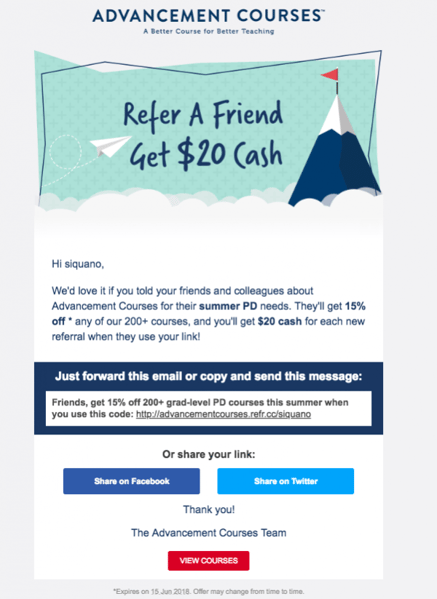 Take this example from Advancement Courses. Instead of inserting an attachment, they've included a specific link to their website's landing page in the email.
This not only increases the chances of these emails colonizing the primary tab, but also allows a prospect the opportunity to have their curiosity piqued, thus pushing them to click your eternal link and act on their desire to know more.
3. Include a cross-sell or offer variety
Wouldn't it be nice to show customers the variety of items you have in your store? Just like any other email, images are essential in a referral marketing email.
Sadly, many marketers do not include pictures alongside their copy. Even when they do, the designs fall flat and don't engage customers with different tastes and likes. If you want to fascinate customers with different personalities, include varieties in your referral images to broaden your customer base and cater to those with different preferences – like the tie bar did in the following email.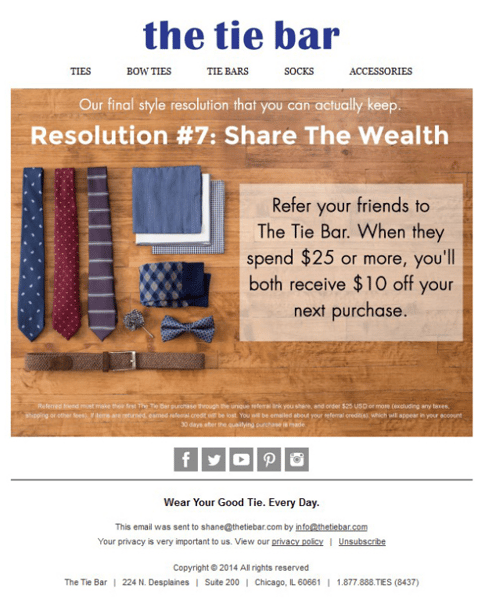 Not only does the image have neck and bow ties, but also other accessories to attract a closely-related party, fulfilling the aim of getting more subscribers who may want related, adjacent content rather than your core selling point.
The impression is to offer hand-picked solutions by incorporating variety. Doing this shows you care about a wide-reaching approach to attract customers and improve their buyer's journey. Something this simple can result in crashing your sales target for the month or quarter.
4. Offer dual-sided upsell
We know referral marketing acts like a seesaw: offering value to the referrer while attracting new customers. It also gives a similar price to the referral and the new acquisition.
Examples of this might read:
Refer a friend, and both of you get 25% off on your next purchase!
Refer your friends and both you and a friend will get a $100 discount when you both spend $25 or more.
While this may be a fair deal, it may not keep the referrer engaged in the referral program for long. Customers forget such one-time deals as soon as they read them. To improve their experience and keep them engaged, offer them an upsell when they make a successful referral.
One way is to give them an incentive to a higher tier subscription so they may enjoy more product features or benefits. For example, LinkedIn offers new users LinkedIn Premium for 30 days, which includes a profile badge and access to LinkedIn Learning videos and courses from which they can earn certifications for their profile.
Another example is from Evernote, where they offer the referrer the opportunity to enjoy more features when they make a successful referral. They also offer premium membership for the product.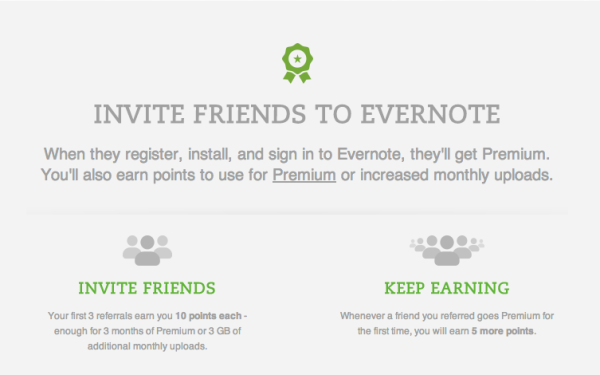 This method works in two ways: helps retention rates for current customers and boosts acquisition rates for new customers. Something like this is guaranteed to get you repeat sales and revenue from the upsell.
5. Offer free products, but not the usual suspects
Most referral program only offers cash rewards or discount to the referrer, but what if you provide the referrer a free product or service when they hit a milestone?
Because everyone loves free products, they'll readily dive in and tell others about your brand or product without much push from you. They will attempt to bring their families and co-worker onboard.
To succeed with such an approach, you can take YouFoodz's example and adapt from it. It provides an excellent way to manage giveaways in a referral program. Their program gives the referrer a week of free food when they make three successful referrals.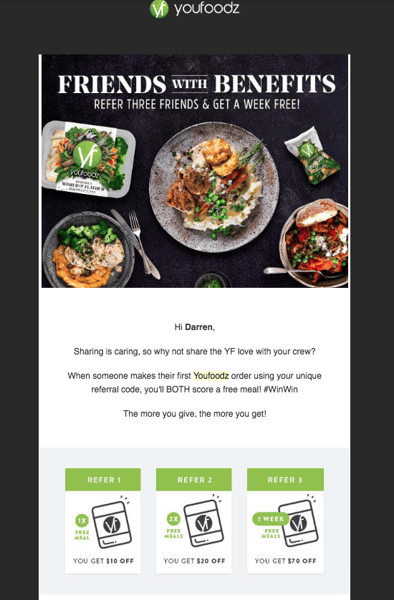 This is yet another excellent way of putting the power of a referral program into the hands of the existing customers to bring more prospects. It helps build awareness through word-of-mouth marketing (WOMM) to increase sales from the acquisition and retention of existing customers. With this approach, YouFoodz leveraged WOMM marketing to grow by over 3000%.
6. Make a real difference
Not every referral marketing program has to fall under the typical two categories of offering monetary rewards or cash discounts for a new acquisition. Instead, it should appeal to a customer's sense of worth and values, like this example from Thrive Causemetics.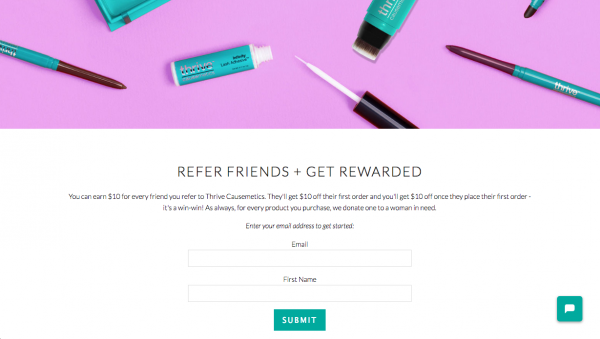 Though it may not be a referral email, it is still a great way to sell to prospects by affecting another person's life through a referral purchase. With every successful purchase the referrer makes, they get a cash reward, and her efforts change a person's life.
Since people love to help people and when they realize that by subscribing to your product or service, they can help a person in need, they will join without second thoughts.
The outcome is: such a message defies expectations by ensuring that a purchase resulting from a referral can reinvent or improve another person's life. You will not only bring more customers in, but also improve your brand's awareness as your customers' desire to do more becomes the differentiating factor.
How to successfully create a referral program without breaking the bank
As the competition continues to grow in every niche, consumers distrust brands more frequently and openly, thus making canvassing for potential leads to become more complicated. Crafting the perfect referral or cold marketing email is not about having a clear headline, getting to the point, and adding in your call-to-action (CTA).
If you want to succeed with a referral program, test each case and see what works for your brand and segments. Then, craft a lead magnet that not only your prospects would love, but also will make them brand evangelists.
To get started with crafting the perfect referral program, you need to become an expert on all things email marketing. Browse our hub with over 25 useful resources to help you on your learning journey.